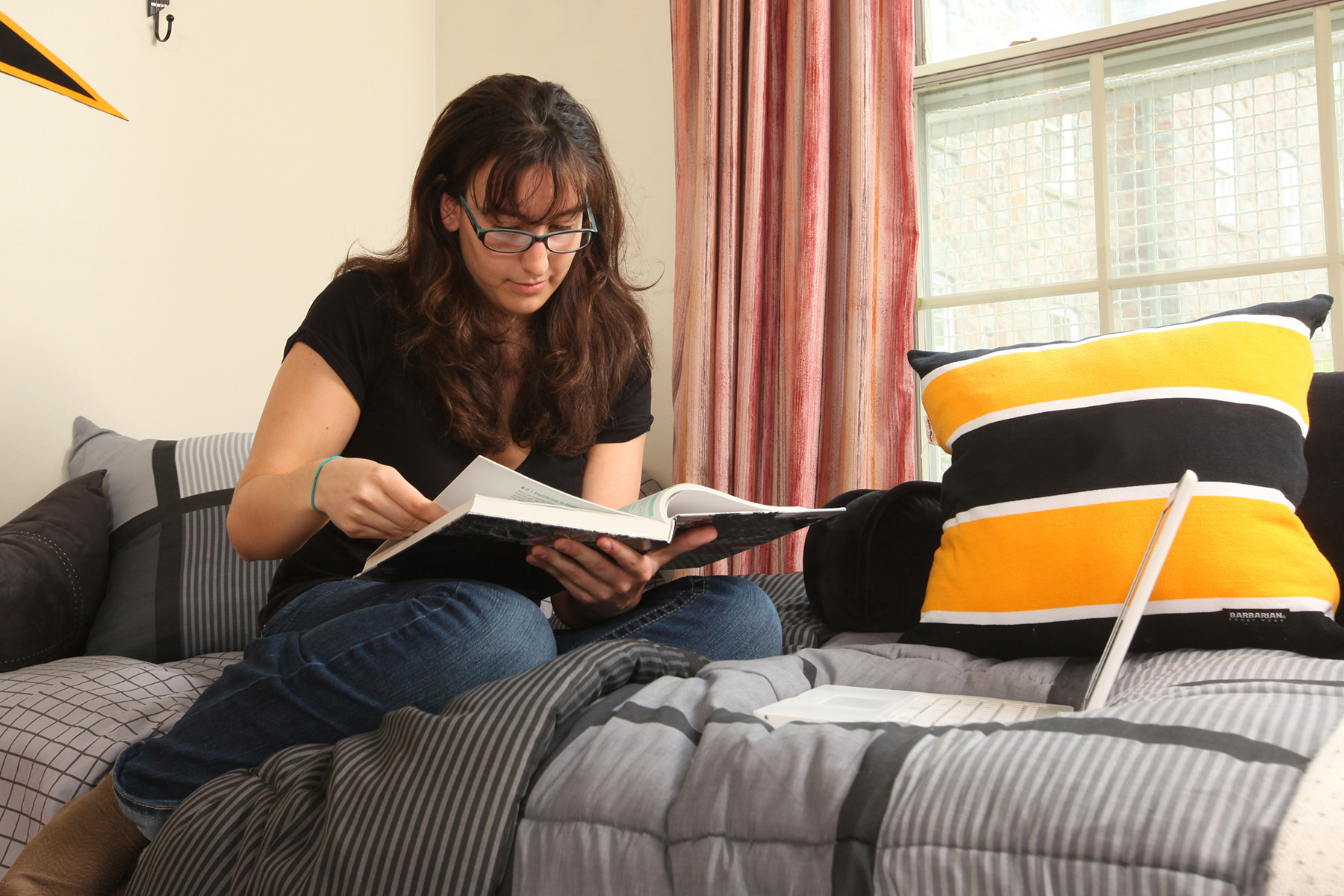 Story
"The pandemic has affected students' sense of belonging and holistic wellness".
Heather Doyle, Dalhousie Student Affairs
In a year like no other, Dalhousie students are facing many challenges. As they prepare to enter their second year of online learning with restricted access to campus, they're telling Dal how the strain is affecting them.
Students have reported their top concerns as mental health, exam performance and having adequate study environments. In fact, 44% of students surveyed identified needing improvements to their study spaces, be that a proper desk or chair, improved lighting or storage spaces for their books and materials.
Their mental health is often affected by financial concerns, as many students lost their summer or part-time jobs and are increasingly reliant on emergency relief bursaries.

We have the opportunity to help.
Student wellness is key for academic success. Many Dal students, especially those experiencing isolation, need extra wellness support to help deal with the loss of income, routines, campus study spaces and access to peers. You can learn more from students like Saif Khader, who is primarily studying from home, but misses his usual study spaces on campus and the quiet company of fellow students.
With your donation to Caring for Students Through COVID-19: The Student Wellness Project, you can help offer Dal students an emergency bursary or items that will allow them to create a more productive and comfortable study-at-home environment. This includes:
• Stationary supplies: Pens, planners, notebooks and more to help keep students organized and on track.
• Home comforts: Items to help make studying at home more comfortable, such as slippers and blankets.
• Study space furniture: Desks, chairs and storage for students studying at home without a proper set-up.
• Essential utilities: To help cover living costs, including heat to keep students warm and internet to keep them connected.
• Microbursary: An emergency bursary for a student experiencing a financial crisis.
With your support, students will also feel the sense of caring and connection from the Dalhousie community. Together, we can help set students up for academic success, while allowing them to achieve and maintain holistic wellbeing.
For more information about Caring for Students Through COVID-19: The Student Wellness Project, please contact Clare MacDermott, Annual Giving Manager, at clare.macdermott@dal.ca.
We thank you in advance for supporting Dalhousie students.
Supporters
Melanie Sullivan
We have to take care of the next generation and lift each other up. Every little bit helps!
Frances Wilkinson
These are such difficult times to be a student anywhere. For those of us who remember wonderful times at Dal studying in much happier circumstances, giving some financial support to today's students is the least we can do.
Rosemary Neu
Mark DeWolf
Elizabeth Johnson
I am happy to support the students of Dalhousie University, the educational institution from which I graduated and then 37 years later from which I retired.
Bernard Savage
Amy Mollegaard
I know firsthand how hard it is to attend university while struggling with mental health issues. I cannot even imagine adding COVID-19 and isolation to the mix. I want students to know you are not alone and you will get through this. There is light at the end of the tunnel.
Gail Shimoda-Klassen
We all have to do our part to make life easier for our fellow students in need. Keep up the great work!
Kathy Spurrell
Gaston Deveaux
I have friends and loved ones who have been impacted by mental health issues. This is a great initiative, and an important cause. Together we can help as many students as we can reach their full potential in spite of the challenges brought about by Covid.
Robert Craig
As an alumnus of Dalhousie, I'm concerned for the welfare of students at this trying time.
Yves Richard
I was happy to donate to the Student Wellness Project at Dal to help those that have been impacted during COVID. We can all do our part to help each other during these challenging times.
Regan Braund
Anthony Lyons
Stewart Reeves
Stacey Forbes
I had a part time job when I attended Dal. It gave me a bit of money and a sense of responsibility that I did not have to go to my parents and family for ALL my financial needs. A lot of the traditional part time jobs are just not available during the pandemic and I think its important to help. You can't study and achieve if you constantly have worry about everything including where the next dollar for food or electricity will come from. I loved my time at Dal and hope this donation can help ease someone's burden.
Dennis Connor
Laura-Jean Williamson
Robin Mcallum
valli Huck