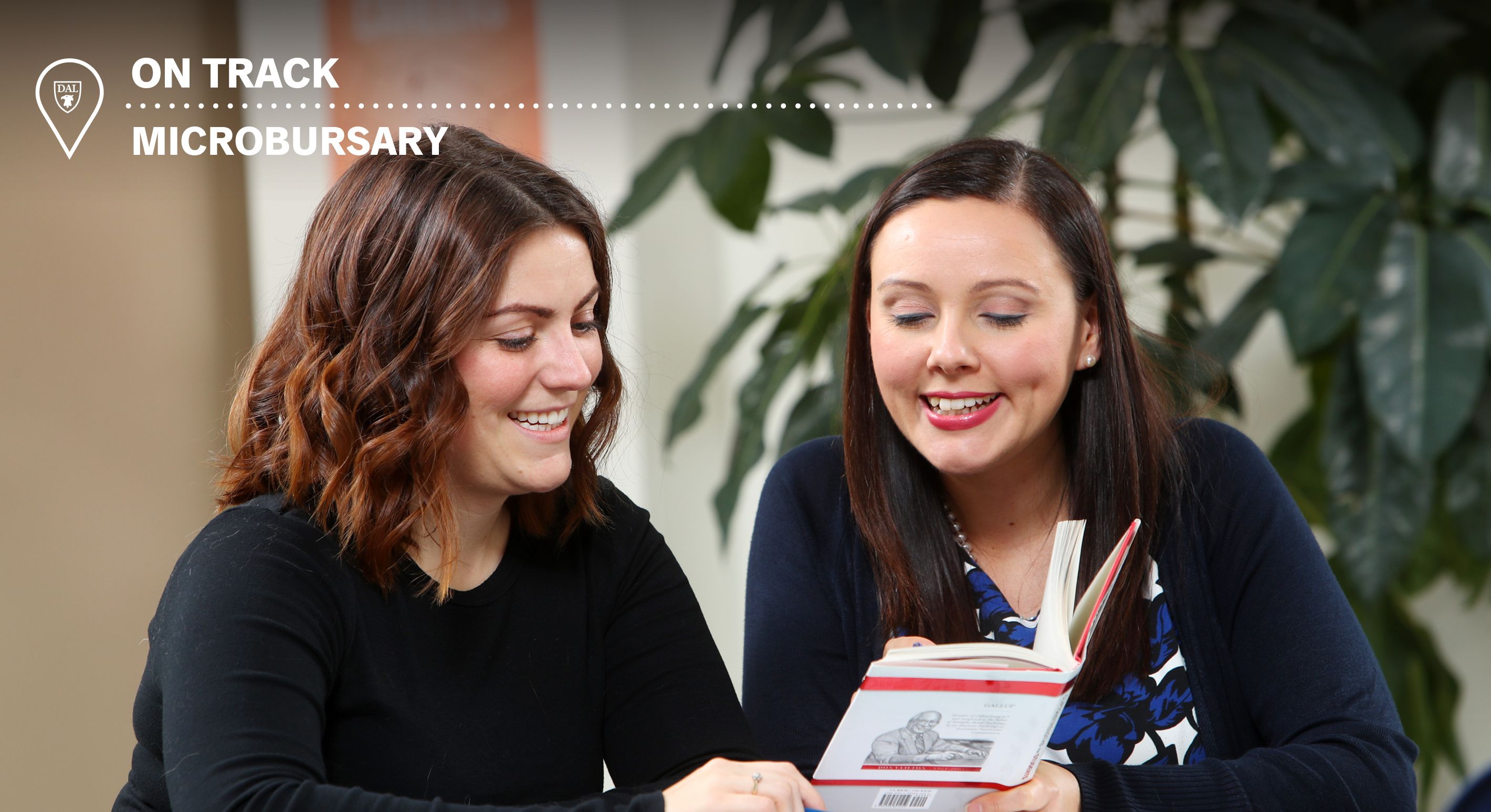 Vision
Life as a university student is filled with excitement. It's also a time when most students experience their first real taste of independence – and the financial responsibilities that come with it.
Sometimes, however, university students are met with life's unexpected surprises. If those surprises result in financial challenges – such as a family emergency or food insecurity – they can put a student's university experience in jeopardy. In fact, financial issues are a top reason why first-year students drop out of school.
Now in its second year, Dalhousie's On Track Microbursary Program is providing first and second-year students with the financial support they need to help them through these times of financial difficulty.
Impact
Student success is a priority at Dalhousie. That success includes ensuring students receive the support they need. Last year, On Track Microbursaries were awarded to 246 students, providing them with emergency funding for living costs, academic resources, health and wellness, transportation and more.
"Receiving the bursary affirmed that I made the right choice in coming to Dalhousie. It made me feel like I'm not on my own and there is a whole community of people who want me to succeed, especially everyone who generously gave to the bursary fund." — CARLY VANDE WEGHE, BACHELOR OF ARTS CANDIDATE '21, SOCIOLOGY
With your gift to Dalhousie's On Track Microbursary Program, you will provide current students with the financial support they need, helping them to stay on track and focused on their education. Your gift – no matter the size – will have a big impact, helping students believe in the possibilities of the university experience. Your support will help students feel a part of a supportive and caring community.
When we all work together, we can make great things happen! Thank you in advance for your generous support!
Supporters
Barbara E. Younker-Smith
Education is crucial to success. I want to support those who need assistance to meet their goals, so they can achieve success.
lawrence stordy
Very pleased to help again this year and I know how much it means to get a helping hand myself as I was a poor student in the early 80's who used to check couch cushions for coins in the old SUB .
Stephen Tzagarakis
Edward Bowes
Cynthia Pilichos
I know how important a financial boost can be to student success. Also, I feel it is really important for students to know and feel that the whole Dalhousie community supports them and wants to see them succeed. Here's to those students who benefit from this very practical form of encouragement!
Patricia Henman
Most students need a little support while gaining education for their future, which in turn, allows them to teach and mentor others. I am honoured to be able to support even one student in the smallest way. Best of luck to all with their dreams; now make them a reality.
Patricia MacDonald
Kimberly McDonald Winsor
Nancy Hayter
Alice Aiken
Our students' success is the most important thing!
Katelyn MacDonald
When I was at Dalhousie, I had to use the emergency funds available to students. I am happy to see a project directly supporting the needs of students so they can continue on in their studies. I now work in fundraising at a college and I see the benefits of these funds every day!
Jo -Anne Galarneau
I clearly remember being in undergrad and struggling with all the academic pressures to pass and move forward within the faculty structure PLUS have a Significant amount of extracurricular activities that kept me far more busy than my academic pursuits. I also worked at the Mic Mall almost 30 Hrs/week to try and make ends meet. It was really tough those last few semesters trying to make it work. It almost came crashing down a few times. Financial Programs like these could have relieved some of the stress and anxiety I had taken on myself.
John Risley
Amy Tung