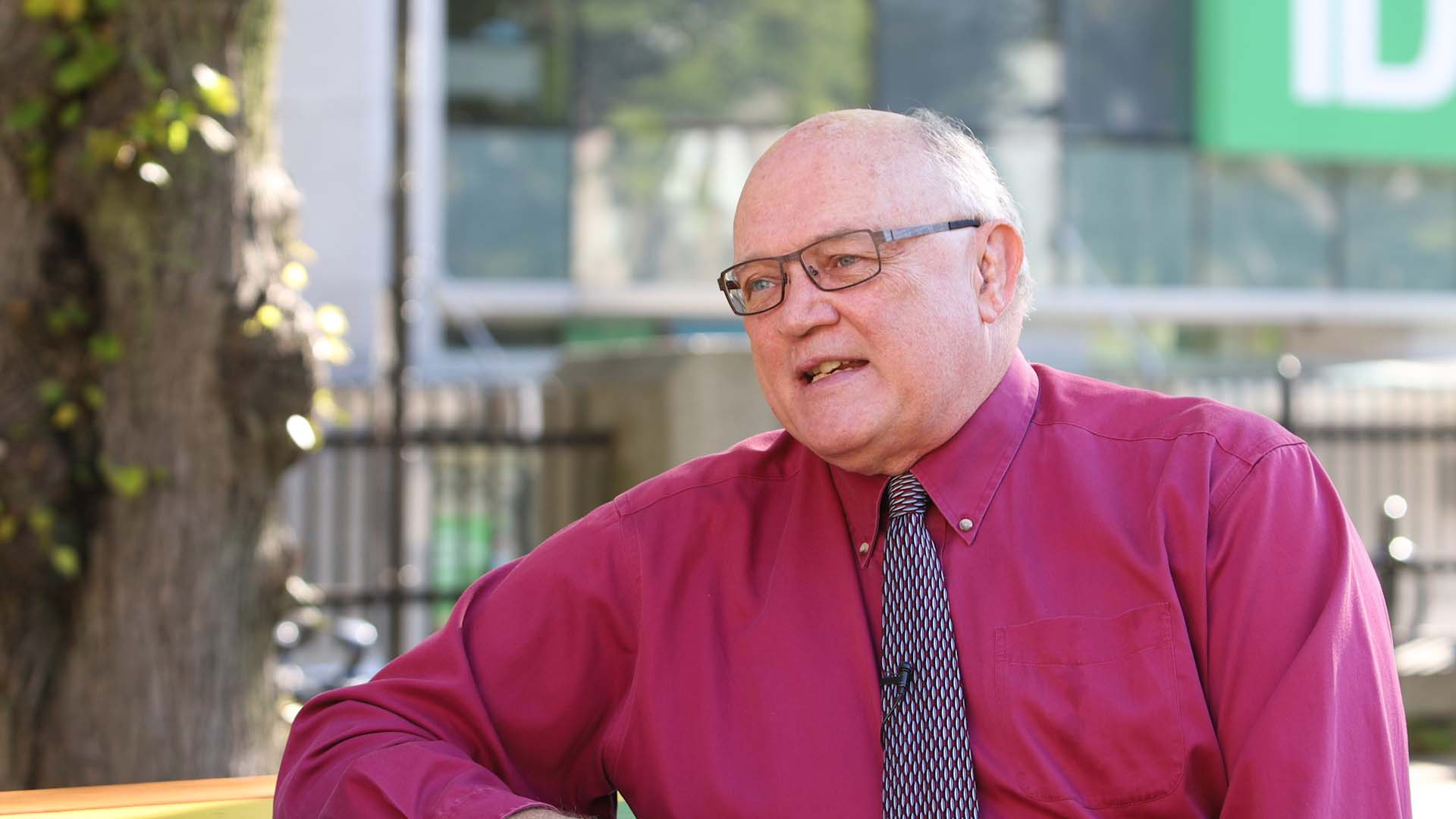 Story
As Nova Scotia's Chief Medical Officer of Health, Dr. Robert Strang is a proven leader in addressing complex health issues that affect Nova Scotians. He has worked tirelessly to support health care for families and communities in the province, including his key role in the public health responses to the H1N1 crisis and COVID-19 pandemic.
Throughout his career, Dr. Strang has also provided leadership in the renewal of the public health system in Nova Scotia. Now, he is helping raise awareness around the importance of creating equity-based policies and environments that support better health outcomes for all Nova Scotians.

Building community
In today's health-care system, equity-based leadership is critical. Not only can it help create better connections and culturally appropriate care for diverse communities, but it is an important piece in supporting problem solving and overall organizational performance. By changing the face of health-care leadership, we can make health care more accessible to deserving people from a range of sexual orientations, abilities, cultural, racial and social strata. Having health-care leaders from under-represented populations helps shape services to meet the needs of patients and health-care providers alike.

Creating opportunities
To help increase equity-based opportunities for students and future health-care leaders entering the Master of Health Administration program at Dalhousie, while honouring the exceptional work and dedication of Dr. Strang, a new scholarship has been established. The Dr. Robert Strang Scholarship in Support of Equity in Health will support students who self-identify as members of under-represented populations, ultimately broadening representation in future health-care structures to build stronger and more responsive health systems.
By making a gift, you can help support the creation of new opportunities for today's students, while increasing representation in health care to improve patient outcomes.
Every gift, no matter the size, makes a difference.
If you would like more information about this scholarship and its impact please contact tanya.packer@dal.ca.
For fundraising queries contact clare.macdermott@dal.ca
Robert Strang
I am honoured to have this scholarship in my name but it represents the commitment, hard work and creativity of the many Nova Scotian health care workers who have lead us though the COVID pandemic. Thank you to each and every one of the donors for supporting the creation of o more inclusive and equitable health care system in Nova Scotia.
Fred Archibald
Diversity, equity and inclusion is so important for both providers and consumers of healthcare in Nova Scotia and warrant support and promotion. Dr Strang's compassion, high ethical standards and responsible leadership are the perfect backdrop for this initiative.
Glen Fallows
Dal Medicine Class of '94
Richard and Grace Beazley
The scholarship is a great idea, with a great purpose, and for those students not often designated for scholarships, and also a big reason is it's in honour of our fabulous Dr. Strang.
Richard Anningson
Let's get this done. Together we can start the societal improvement rather than just talking about how it is needed.
Tom Currie
Lara Hazelton
Erin Skinner
This is a wonderful and timely initiative that I'm pleased to support. Covid has cast a bright light on the valuable work of health leaders. This important work will continue after the pandemic - much as it was before the pandemic - mostly quietly, but with passion and dedication to excellence. Ensuring that health leadership education is accessible to students with diverse backgrounds will
Karen Cameron
Dr Strang is a hero of this pandemic. Well educated , calm , knows how to talk to the general population. Deserves accolades and a vacation !!
Mary McNally
Christine Short
If nothing else, COVID has really uncovered the problem of health inequity world-wide. This is a great opportunity for me to give back, as a Dal alumnus, and help someone else make a difference for our world.
Michael West
Gisela O'Brien
Huge thanks to Robert Zed. Dr. Strang deserves the thanks of every Nova Scotian.
Liz Millett
Sandra Zed Finless
A positive and forward looking initiative in healthcare with inspirational leadership!!
Darren Nantes
Anne Newcombe
please include name as M. Anne Newcombe. ...and BRAVO for getting this tremendous project underway!
Maureen MacDonald
What a wonderful way to acknowledge the outstanding work of Dr R Strang.
Royal LePage
Lesley Zwicker
Maggie McCulloch
Creating opportunities for equity in healthcare is necessary for us to continue to work toward health for all. As a social worker in the healthcare system, I see the effects of systemic barriers every day. We need leaders who acknowledge that we need to do better to make sure every member of our community gets the care they need, no matter their context.
Joyce & Michael Giacomantonio
What a wonderful initiative to recognize this amazing man who so embodies hard work and commitment to the delivery of health care in Nova Scotia.He has been selfless in his efforts during Covid-19.
Tanya Packer
This scholarship honours Dr. Strang and all the health leaders who have shown courage and compassion before and during the pandemic. It also looks to the future, calling for future health leaders who can bring their voices to grow equity in health services. We will all benefit!
Dorothy Grantmyre
Norman Pinsky
Diane Theriault
Christena Cote
His steady perseverance and wisdom throughout the COVID-19 pandemic has been a true inspiration. Cannot think of another physician I respect as much as Dr Strang.
Michelle Hébert
Cheryl Kozey
Dr. Strang has shown his leadership related to this pandemic and has increased the profile of public health in the province by clearly demonstrating its importance. Unfortunately it took a pandemic to do this as Dr. Strang has been a strong advocate for improving overall health through increasing physical activity and healthy lifestyles which fell upon deaf ears. Maybe now our government and poli
Sandra Irving
We need more health care workers from all races and cultures. Our current COVID situation has emphasized the need for more health care workers in hospitals, nursing homes and home care. I hope equity in health services grows so that our community benefits from the equity.
Sarah Manos
Corey Miller
Phil Otto
Gar and Susan Moffatt
Robert Zed