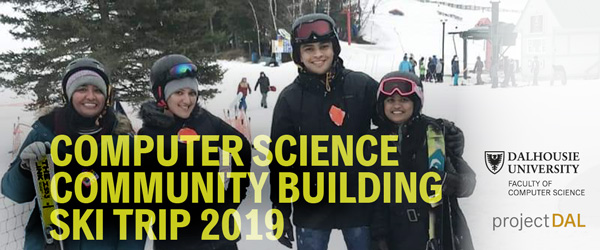 Vision
Moving away from home comes with a lot of challenges. It takes courage to step out of a comfort zone, bravery to speak in a new language, and opportunities to mingle with others in a new environment. Our goal is to provide a means through which the international students can feel included and be a part of the new community by organizing a community building ski-trip.
Strategy
The Computer Science Graduate Society which constituted in 2014 has worked over the years to organize various events that helped students get more involved in the Faculty of Computer Science. Similar to other faculties, at the Faculty of Computer Science, a considerable number of the students come from countries outside of North America. Therefore, it is important to create a sense of belonging for these students.
In order to develop relationships and help the international students to adapt to Canadian culture better, the CSGS organized a ski-trip last year for the very first time. The response for the event was louder than an avalanche and it resonated by making the students feel more comfortable participating in other academic events at Dalhousie. We plan to organize the trip again this year and expect that the response this time would be louder than before.
Impact
The total estimated cost for this event is $3,000, of which we are looking to raise $2,000 through fundraising. Last year the event was fully sponsored through the CSGS budget, however, this year, due to the expansion of events, we are limited to only a $500 budget for this event through CSGS. We plan to take 50 students on the trip and raise the other $500 through a fee of $10 per student.
A $40 contribution would help a student to not only attend this event but also develop a sense of belonging and community. One of the visions of Dalhousie as a University is to foster a collegial culture grounded in diversity and inclusiveness (Strategic Direction charter 5.2), which is the foundation of this event and through your gift, you would be assisting towards fulfilling this vision.
Supporters
Sheila Blair-Reid
have a wonderful Nova Scotian snow day!
Grant Wells
Always a pleasure to help international students as they have been a huge part of the ShiftKey Labs success story!
Marty Leonard
Harman Gosal
Farzana Karedia
Colin Conrad