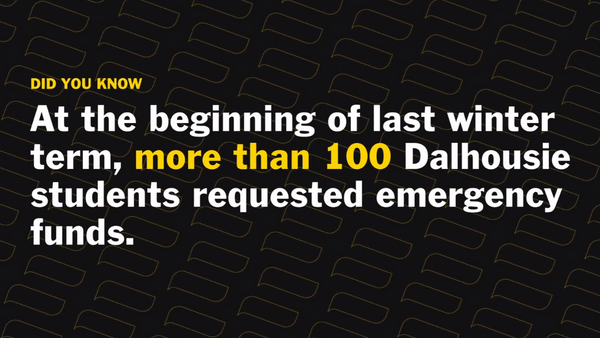 Story
"My parents did everything they could to get me here, but it still hasn't been easy. Thankfully, I received an Emergency Microbursary at a time when it made all the difference. I was able to sort out some of my immediate needs and stay on course." — Olugbenga M C Obasun, first-year science student
Financial stress is the most significant factor influencing students' chances of making it to graduation day. Maybe it's a late paycheck, a family emergency or a crashed computer. As a student, unexpected setbacks can be devastating. And without a helping hand, they could even derail an education.
Every year, Dal alumni and friends choose to pay it forward in so many ways, but emergency microbusary support is unmatched in its capacity to provide immediate relief when times are tough.
Emergency microbursaries offset the impact of the unexpected events that many students face during this formative time. With $10,000, we can create 20 microbursaries, extending a lifeline when it's most needed.
It's not about how much you can give, but whether you are able to help. Your support means students can remain focused on what really matters and persevere through tough situations. You will ensure urgent help is available. Please make a gift today.
If you would like more information about this campaign, please contact Venna Penney at venna.penney@dal.ca. To mail a cheque please send to the Office of Advancement, 6389 Coburg Road, PO Box 15000, Halifax, NS B3H 2A5.
Supporters
Elizabeth Edwards
Dawn MacNutt
David Spencer
Dennis Connor