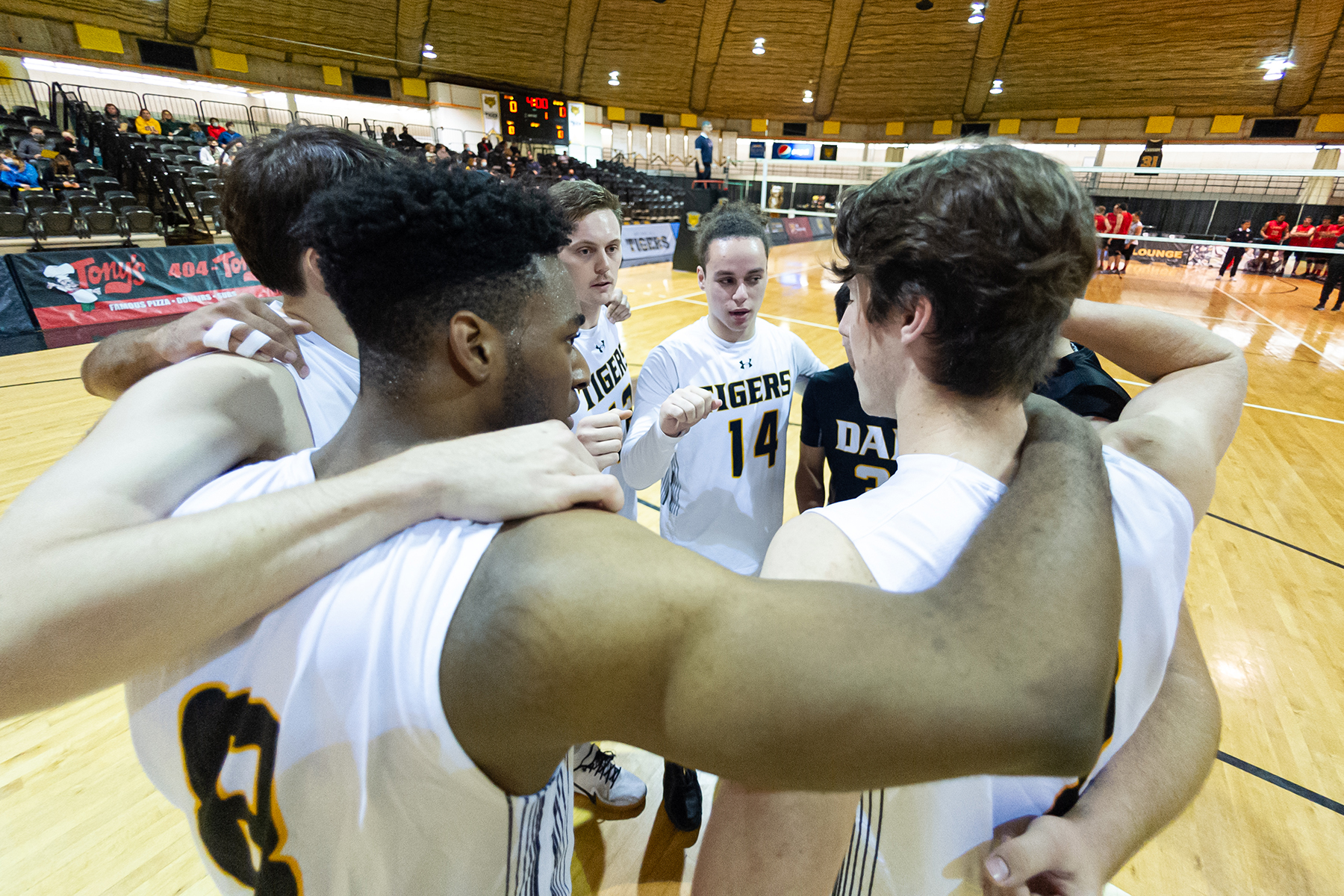 Strategy
We need your support
The men's volleyball team is striving to make its way to the top of the RSEQ standings during the 2022-23 season. Playing in a small, five-team league means fewer playing opportunities during the regular season. Your donation to the Adopt a Tiger program will help fund much-needed exhibition travel opportunities to prepare for the season ahead.
About Our Team
The Tigers men's volleyball team has played in the RSEQ league since the 2018-19 season. Before that, the Tigers held a long standing history as a top Atlantic University Sport (AUS) competitor with 36 AUS championship titles, their last in the 2014-15 season. Dalhousie's impressive record includes a 24-year win streak from 1987-2010. Since the team's inception, numerous athletes have been recognized as AUS all-stars and/or U SPORTS all-Canadians for their outstanding performances on the court. Many student-athletes have also been honoured as U SPORTS Academic all-Canadians for their hard work in the classroom.
Adopt a Tiger Program
The Adopt a Tiger program offers supporters an opportunity to assist Dalhousie volleyball players in their pursuit of excellence as they balance the demands of being varsity student-athletes. Funds raised through Adopt a Tiger help ensure that the student experience offered to Dal Tigers is as superb as their commitment to represent our university.
If you would like more information about this campaign, please contact Clare MacDermott at Clare.MacDermott@dal.ca
Supporters
Eric Villeneuve
My years involved with the Dal Tigers provided me with some of the best memories of my life and prepared me for life beyond university. Happy to help today's student athletes in a small way.
Robyn Bent
Go Lucas Go!! I wish you and your team the best of luck. I am glad you found a sport you are so passionate about!
Dave Mackey
Wishing you the best, Daniel Love Uncle Dave and Auntie Reisa
Don and Pat Mackey
Howard Binstock
Keith Donovan
Dalhousie University and Dal Volleyball has been a big part of our family for a long time so we're happy to support and help continue the tradition of excellence. Keith and Elsa Donovan
Deanne McDonald
Patrick Beresford
Josh Deyoung
Stefanie Condon-Oldreive
Lucas has gone from really enjoying volleyball to living and breathing volleyball. These young men give 100% effort and their dedication to the sport and the time they dedicate to training is nothing short of impressive. Dan and the assistant coaches have been wonderful to Lucas.
Brian Wiseman
Lee Wiseman
Jason Cross
Glenn Cross