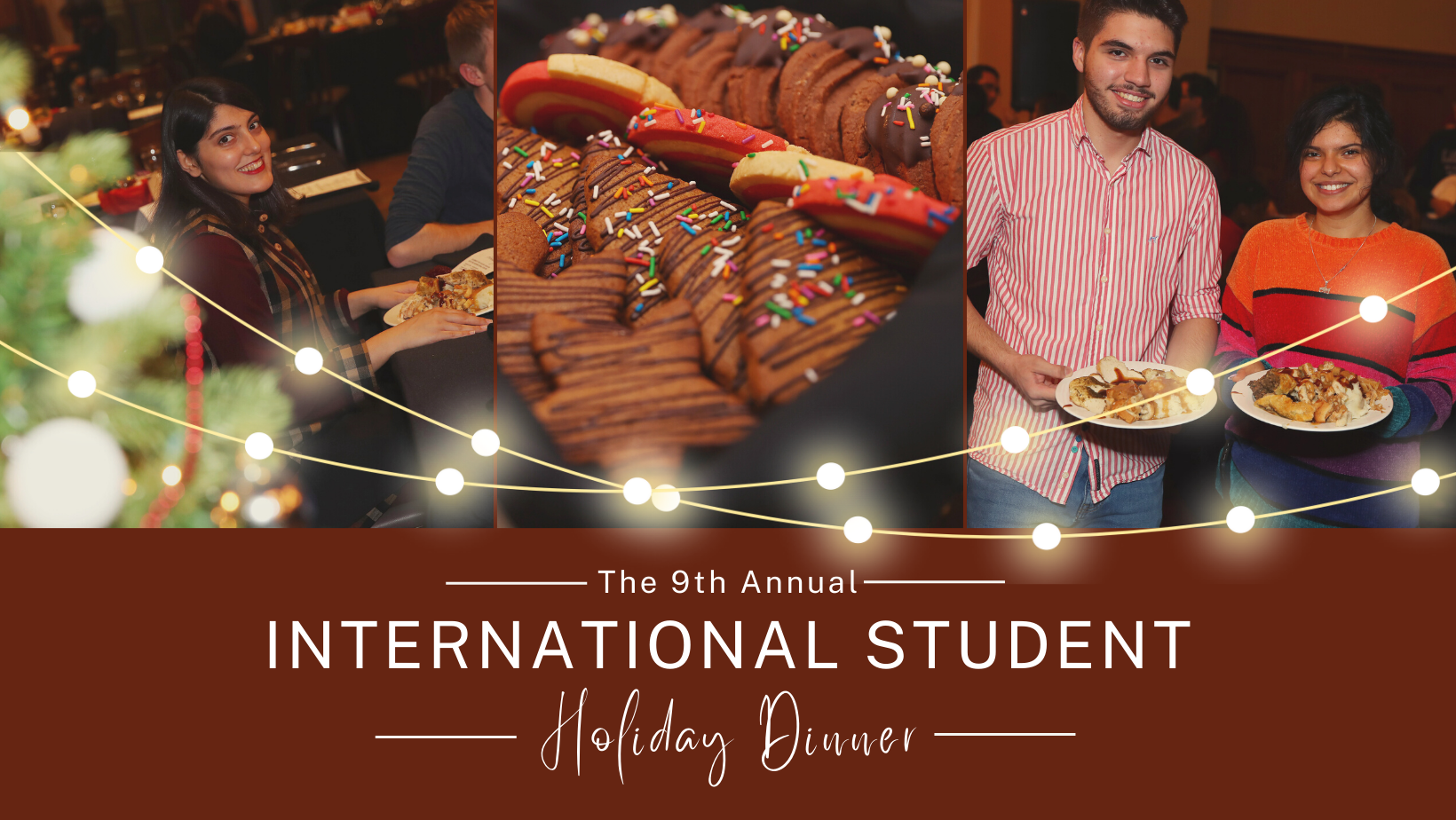 Vision
The holiday season brings forth a time of tradition and celebration. For many Dalhousie students traveling home to enjoy this time with family is difficult, and so they will instead remain on campus. With your help, we hope to host another 200 students during our cherished celebration on December 21st, 2023 at the 9th Annual International Student Holiday Dinner.
Strategy
Alumni volunteers are working with the International Student Centre to organize our ninth-annual East Coast holiday meal for our international and out-of-town students. Planning for this year's dinner is underway, and we invite you to share the holiday spirit by contributing to the costs of the holiday dinner.
The first International Student Holiday Dinner took place in 2015 when alumni volunteers sought to offer a meaningful experience for our international students. The dinner was a tremendous success and it was decided then that this would be an annual event.
Since 2015, over 1400 students, alumni, staff and faculty have come together to share their traditions, holiday spirit, and of course a delicious meal made possible by dedicated volunteers and you, our generous donors. Now as we prepare for our ninth celebration, we are again turning to our community to help support this worthwhile cause.
"I had the opportunity to attend the Dinner in 2015 as a student. It was a great event; we shared a Canadian holiday dinner and I felt included in the local holiday celebrations. I am glad that this has become an annual event that assures students that, even if they are far away from their own family, they are an integral part of the Dalhousie family." -Mahbubur Rahman (MASc'16)
Our celebration begins with a reception in the beautiful Victorian Lounge of Shirreff Hall, wherein students sip punch, play games and listen to live performances of traditional holiday music from around the world. The reception is followed by our delicious buffet dinner in the main dining hall, complete with an expansive dessert station which is always a huge hit with our guests. With your support, we hope to make this our most joyous celebration yet.
Impact
A donation of $35 enables one student to enjoy a meal in the company of their friends and community. For many of our guests, this is the only holiday meal they will attend, and so with a fundraising goal of $7,000, we hope to invite another 200 guests to participate in this cherished tradition.
For more information about this initiative please contact Stacey deMolitor at stacey.demolitor@dal.ca
Supporters
Michael Pegg
The Holiday season is a time when we want to be with family, however under certain circumstances this is not possible. Those unable to travel home and must stay here will become your new family for the holiday season. Enjoy one another company.
Juliette Thomas
When my daughters used to attend university they always invited home international students to holiday dinners, donating gives me the opportunity to still contribute and treat a student. Every small donation makes a Big difference.
Alexander Brandt
Amy Mui
Carolyn Mitchell
Alice Aiken
Our international students contribute so much to Dalhousie and who we are, this dinner is a small way that we can give back to them.
Joseph Macdonald
I have been away from home many times during the holiday season, and being invited to share a dinner with others has always been a special experience for me.
Colette Wyllie
Alison DeLory
I am pleased to help our international students enjoy the holidays this way. Thank you to the organizers.
Kathleen MacFarlane
I can't imagine not being with your family over the holidays. I hope this dinner provides some holiday spirit for our international students. Happy Holidays!