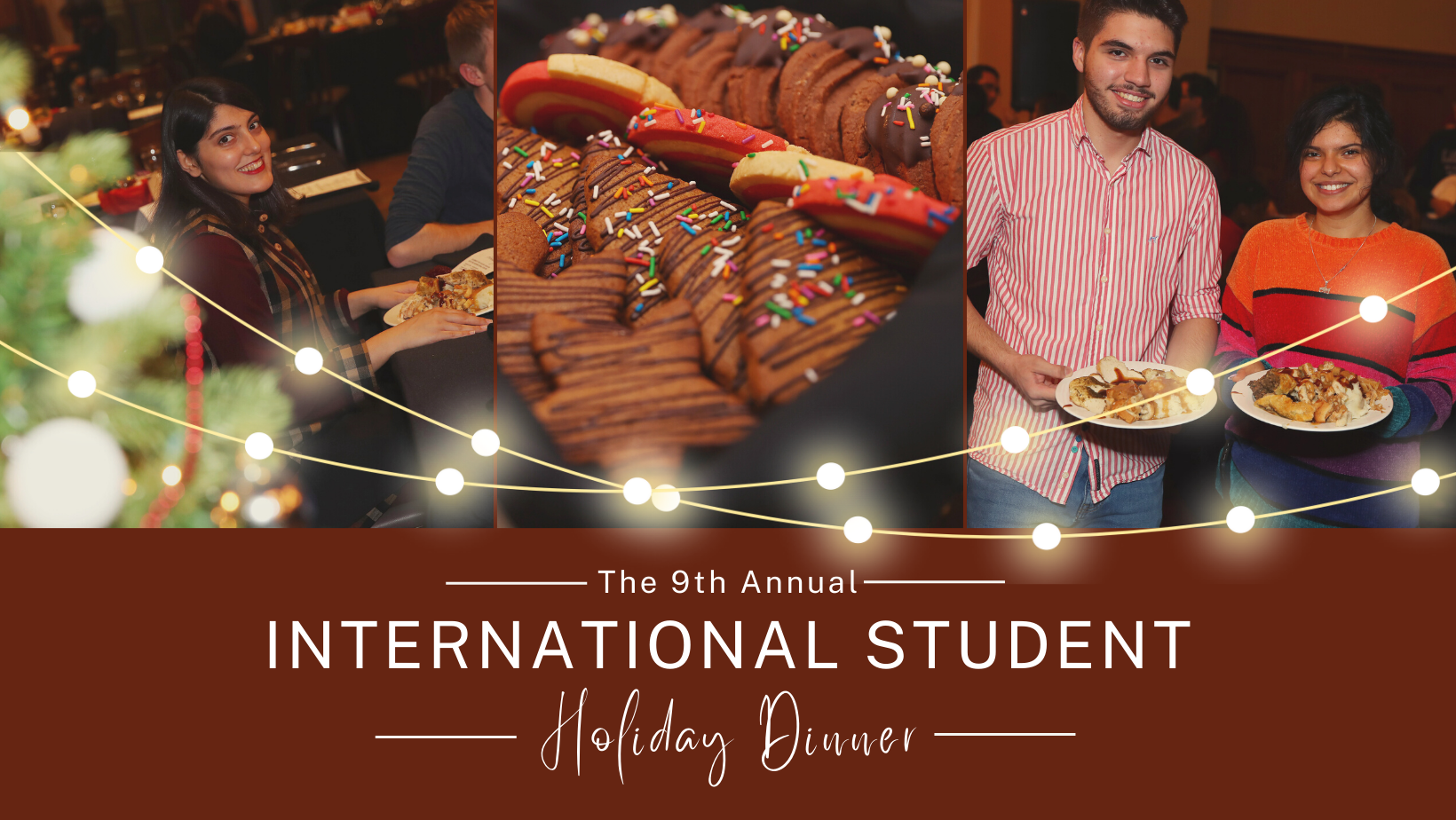 Vision
The holiday season brings forth a time of tradition and celebration. For many Dalhousie students traveling home to enjoy this time with family is difficult, and so they will instead remain on campus. With your help, we hope to host another 200 students during our cherished celebration on December 21st, 2023 at the 9th Annual International Student Holiday Dinner.
Strategy
Alumni volunteers are working with the International Student Centre to organize our ninth-annual East Coast holiday meal for our international and out-of-town students. Planning for this year's dinner is underway, and we invite you to share the holiday spirit by contributing to the costs of the holiday dinner.
The first International Student Holiday Dinner took place in 2015 when alumni volunteers sought to offer a meaningful experience for our international students. The dinner was a tremendous success and it was decided then that this would be an annual event.
Since 2015, over 1400 students, alumni, staff and faculty have come together to share their traditions, holiday spirit, and of course a delicious meal made possible by dedicated volunteers and you, our generous donors. Now as we prepare for our ninth celebration, we are again turning to our community to help support this worthwhile cause.
"I had the opportunity to attend the Dinner in 2015 as a student. It was a great event; we shared a Canadian holiday dinner and I felt included in the local holiday celebrations. I am glad that this has become an annual event that assures students that, even if they are far away from their own family, they are an integral part of the Dalhousie family." -Mahbubur Rahman (MASc'16)
Our celebration begins with a reception in the beautiful Victorian Lounge of Shirreff Hall, wherein students sip punch, play games and listen to live performances of traditional holiday music from around the world. The reception is followed by our delicious buffet dinner in the main dining hall, complete with an expansive dessert station which is always a huge hit with our guests. With your support, we hope to make this our most joyous celebration yet.
Impact
A donation of $35 enables one student to enjoy a meal in the company of their friends and community. For many of our guests, this is the only holiday meal they will attend, and so with a fundraising goal of $7,000, we hope to invite another 200 guests to participate in this cherished tradition.
For more information about this initiative please contact Stacey deMolitor at stacey.demolitor@dal.ca
Supporters
Peggy Domenie
Sending you all warmest holiday wishes and hope you are enjoying your studies at Dalhousie. It can be hard to be away from family and friends over the holidays, so hoping this dinner is a great way to make new friends and share in new holiday traditions with your peers!
Cynthia Pilichos
Great occasion for the international students to enjoy the holiday season!
Janette Hurley
I remember Celebrating my first Christmas as an International Student @ DAL with friends in 1972.Happy Christmas. Hugs Peace Blessings
Tamara Parry
Andrew Martin
Dennette Dennette_Hanna-Shea
Whether people are far from home, don't have family or don't celebrate Christmas and are alone because of that, I believe being with people for a meal goes along way to a person's mental health. I hope the recipient enjoys their evening.
Jennifer Pierce
Robin Bishop
Suzie Officer
Karen Simpson
Being HUMBLE means recognizing that we are not on earth to see how IMPORTANT we can become, but to see how much DIFFERENCE we can make in the lives of others. ~Gordon B. Hinckley
Manjula Devaraj
I was a foreign student once, and Christmas on campus and away from family was always hard!!! So I empathize with the students and support this 100%.
Mary MacCara
Margaret Shirley
Wishing you all a wonderful time!
jessica.feader@dal.ca
Happy to support a good cause! It must be tough for students to be far away from home and family during the holidays.
Kathy Spurrell
As a member of the graduating class of 1983, I have many great memories of my years at Dal! In 40 years, for these International students, I hope that the Holiday Dinner event will be one of their great memories of their years at Dal!
Jeannette Janssen
Paul Bychok
Seasons Greetings and best wishes for your continuing studies!
Jennifer Bain
I hope the evening is a great success and kicks off a restful and joyful holiday break.
Kazue Semba
Enjoy the holiday dinner! Wishing you a happy holiday season!
Susan Laviolette
I hope that although you could not be with your family this holiday season, you feel the warmth of the Dalhousie community. Enjoy your dinner.