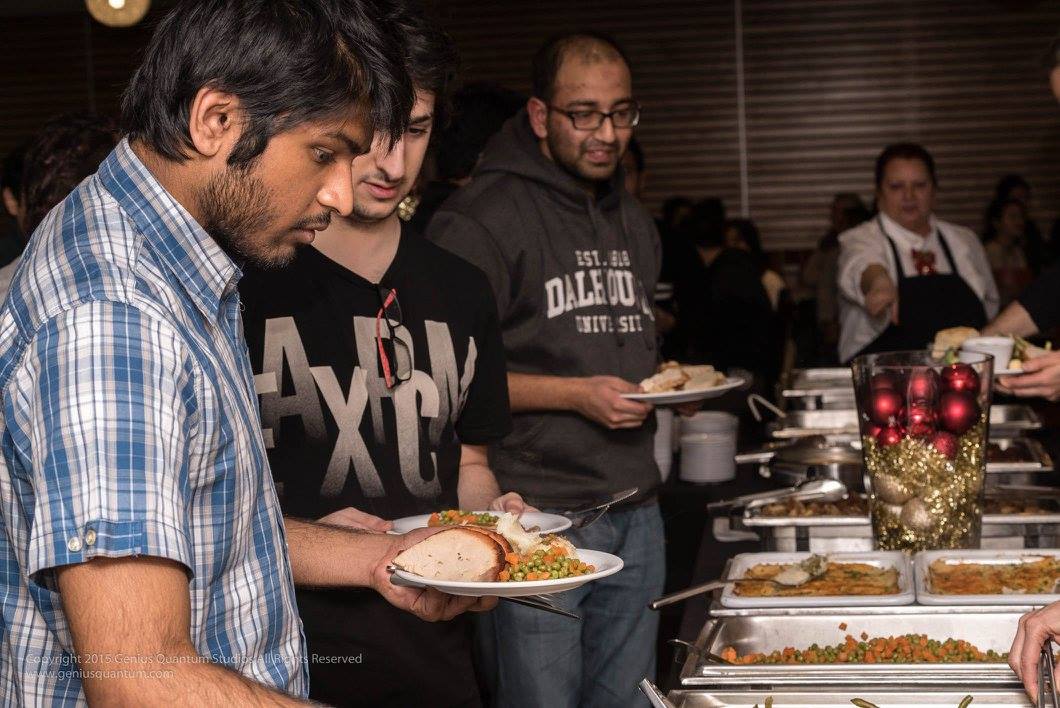 Vision
The holiday season brings forth a time of tradition and celebration. For many Dalhousie students traveling home to enjoy this time with family is difficult, and so they will instead remain on campus. For the past three years, the Dalhousie Alumni community has marked the holidays with these students in what has become our own tradition of community and celebration— the annual International Student Holiday Dinner.
The Halifax alumni chapter and the Dalhousie Women's Division are working with the International Centre to organize another East Coast holiday meal for our international and out-of-town students. This year's dinner is set for December 18, 2018, and we invite you to share the holiday spirit by contributing to the costs of the holiday dinner.
Story
The first International Student Holiday Dinner took place three years ago when alumni volunteers sought to offer a meaningful experience for our international students. The dinner was a tremendous success and it was decided then that this would be an annual event. In our second year, we rallied the Dalhousie community in support of the Dinner and were successful in raising enough funds to support not one, but two years of celebration.
Since 2015, nearly 500 students, alumni, staff and faculty have come together to share their traditions, holiday spirit, and of course, a delicious meal. Now as we prepare for our fourth year, we are again turning to our community to help support this worthwhile cause.
Impact
A donation of $20 enables one student to enjoy a meal in the company of their friends and community. For many of our guests, this is the only holiday meal they will attend, and so with a fundraising goal of $4,000, we hope to invite 200 guests to participate in our largest holiday dinner yet!
"The international students eagerly participate at the reception and dinner– very heart-warming to see such enthusiasm! Having so many countries of origin in one place to break bread and celebrate a season of peace and good will restores one's faith in the oneness of the human family. One can't help but celebrate that and to give support so that as many international students as possible can attend." -Cynthia Pilichos, BEd'75, executive member of the Dalhousie Women's Division.
"I had the opportunity to attend the Dinner in 2015 as a student. It was a great event; we shared a Canadian holiday dinner with the University President, alumni and fellow international students, and I felt included in the local holiday celebrations. I have observed similar feelings of gratitude among my fellow students. I am glad that this has become an annual event that assures students that even if they are far away from their own family, they are an integral part of the Dalhousie family." -Mahbubur Rahman (MASc'16), Halifax Alumni Chapter
Supporters
Daniel McElroy
Kayla Wolfe
Merry Christmas & Happy New Year!
Margaret Cameron
Carl Canning
Karen Woodworth
Vaughn Miller
LEX MACNEIL
Welcome to a Canadian tradition, and I hope yo have an enjoyable evening. Lex MacNeil
Joan Langley
Well done, Project Team! Merry Christmas, one and all!
Robert Lewington
Wishing everyone a special holiday season. May this meal symbolise our friendship.
Victoria Goldring
Raymond Roberts
Grant MacEachern
Wishing all students success in their studies.
John Gilbert
My very best wishes to all students for a happy holiday season. 53 years ago I also spent Christmas away from home at graduate school and know the importance of fellowship at a communal meal at this time.
Vidhya Ramamoorthy
"Merry Christmas & a Happy New Year!"
Arthur Walsh
Andrea Drysdale
Kevin MacDonell
Kate Somers
Christena Copeland
I can only imagine how tough it would be to away from family during the holiday season. Here is my hope that a delicious meal and some good company will make a difference. :-)
Alison Edwards