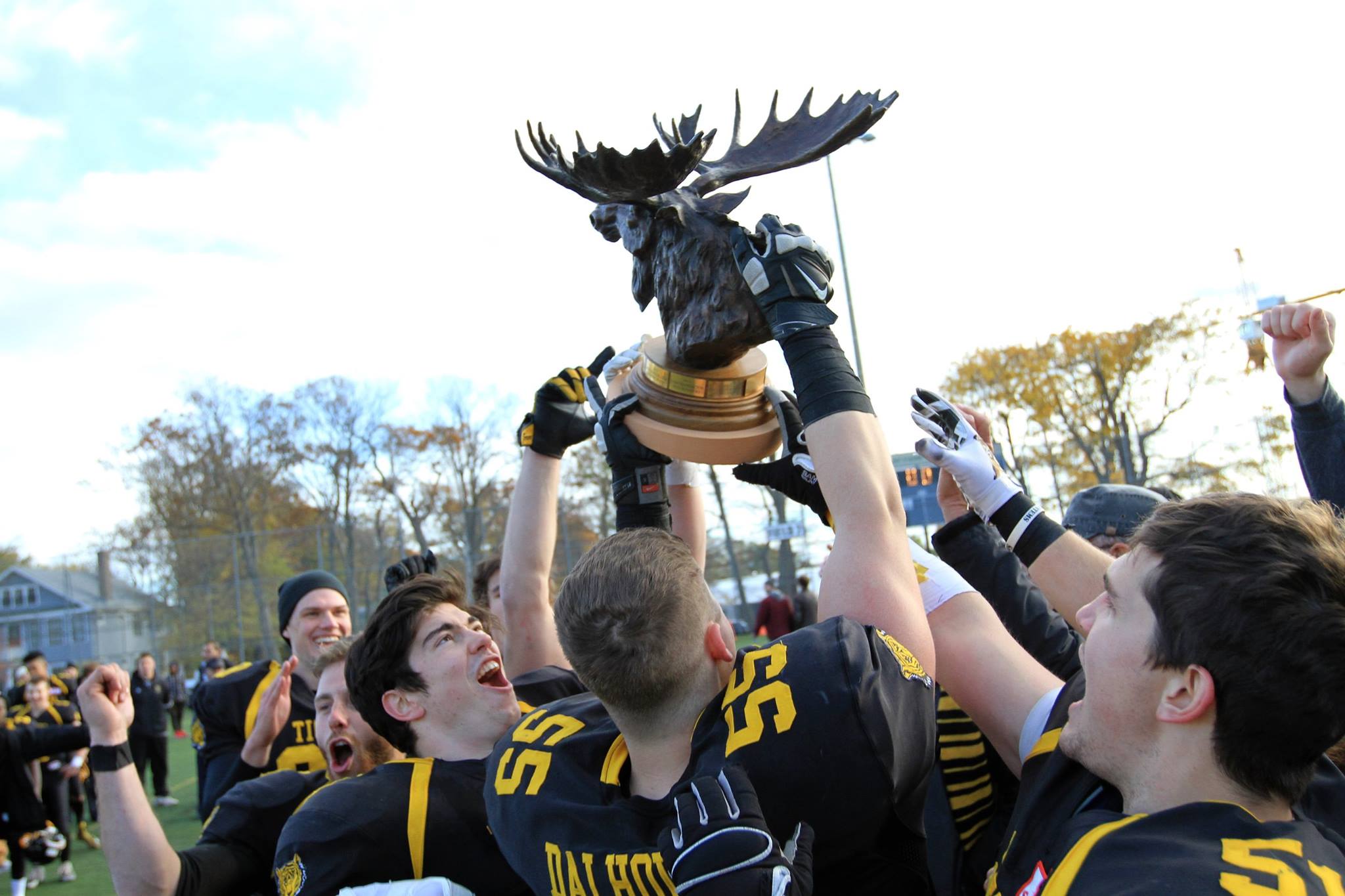 Vision
After a 34 year hiatus, football finally returned to Dalhousie University in September 2010. Thanks to two Dal Alumni, Jim Wilson (MBA '87) and Rick Rivers, Dalhousie Football was resurrected to the delight of many. In 2016, we celebrated the 70th anniversary of football at Dalhousie. During that season the Tigers went undefeated (8-0), outscoring their opponents by over 300 points overall. The Tigers then brought home their first championship in 62 years, with several alumni from the 1954 championship squad in attendance at the championship game on Wickwire Field. The goals of Dalhousie Football include the development of young student-athlete leaders, engagement of the football community of Halifax, and promotion of school spirit through engaging Dalhousie students, faculty, alumni, and community members.
Story
As a club team, Dalhousie Football is funded by our gracious sponsors, and our Founders Club. The Founders Club is a group of Dal Football supporters and alumni who helped provide the start-up funds for our team. Since 2010, over 250 student athletes have worn the black and gold of Dalhousie Football, and it is the 8th year that all of these athletes have been using the same helmets. As we near our tenth season in September 2019, we hope to purchase 60 new helmets as the existing ones reach the end of their ten-year life.
Strategy
In the spirit of Dalhousie's 200th Anniversary, we want to engage 200 Dalhousie Football alumni with the hopes of each donating $200, or whatever they can afford. This will help us reach our goal of raising $40,000. Each helmet costs approximately $600, not including fees for upkeep and reconditioning every 2 years. These helmets (Riddell SpeedFlex) were shown to be one of the safest helmets in a recent NFL Study of 34 helmet brands. Already, several past captains of Dal Football have offered their support for our campaign and we need a little more help from you.
Impact
The safety of our student-athletes is our top priority. These funds will be directly used to purchase new helmets for the Dalhousie Football Club. We want to purchase top of the line helmets to ensure the safety of our athletes and reduce concussion risk and ensure the academic success of our student-athletes. Your generous gift will help secure our players' safety and the Tigers bring the next championship home!
Backers
Bruce Evans
Agnes Quinn Hiscott
Reed and Benedetta Holmes
Gregory Pelly
Tigers football will always be a part of me. I will always remember the good times that I had with the Players and Coaches I had the pleasure of sharing the field with. All the best to the current and future Dalhousie Tigers. You are truly part of something special.
jamie wright
Reid Morden
As I former football Tiger, this donation is in memory of Andy MacKay and others who kept the dream of returning football to Dal alive
Richard Rivers
Football develops youth mentally, physically and spiritually to become a better person!
merv shaw
Tom Lynch