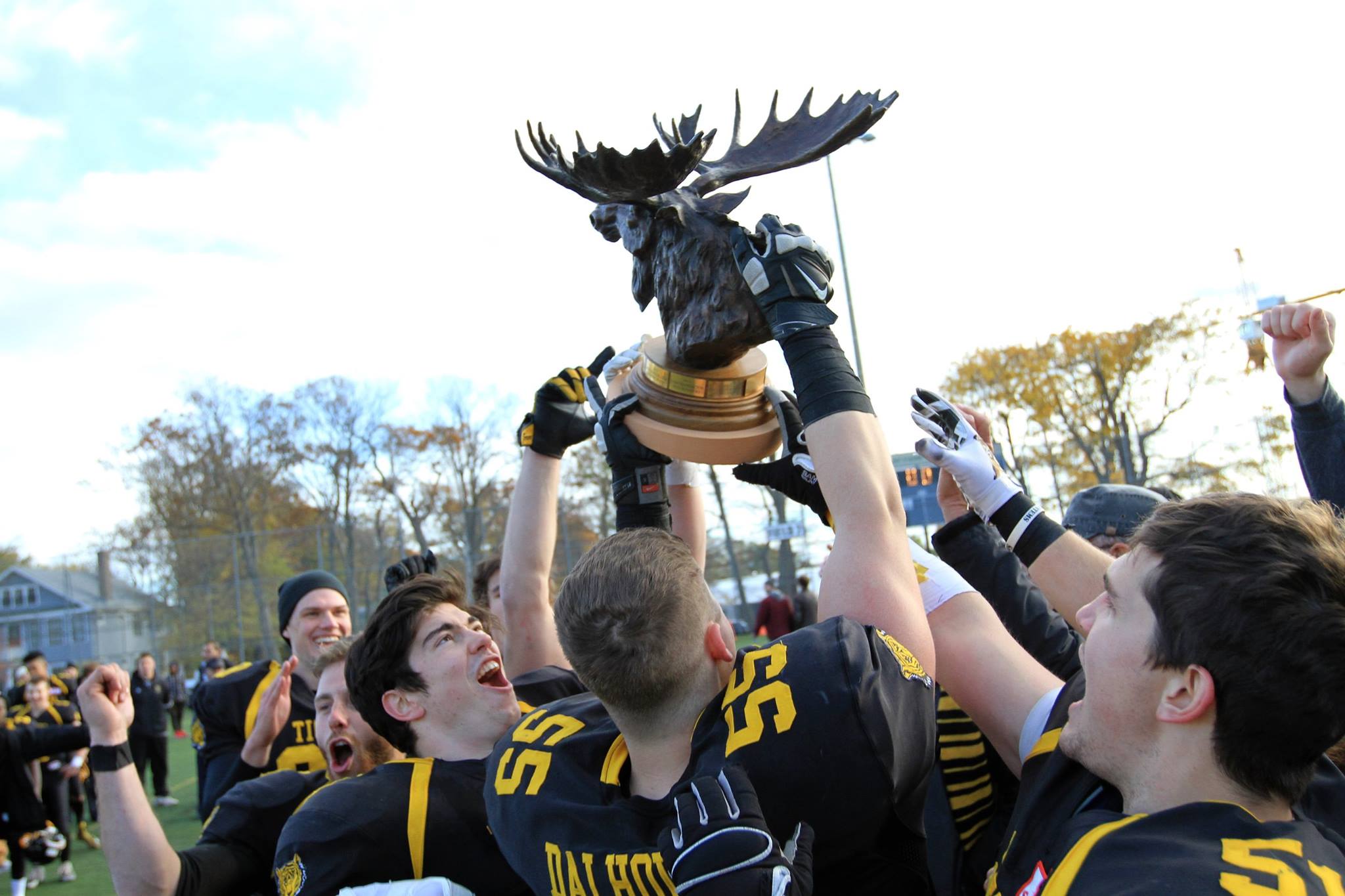 Vision
After a 34 year hiatus, football finally returned to Dalhousie University in September 2010. Thanks to two Dal Alumni, Jim Wilson (MBA '87) and Rick Rivers, Dalhousie Football was resurrected to the delight of many. In 2016, we celebrated the 70th anniversary of football at Dalhousie. During that season the Tigers went undefeated (8-0), outscoring their opponents by over 300 points overall. The Tigers then brought home their first championship in 62 years, with several alumni from the 1954 championship squad in attendance at the championship game on Wickwire Field. In the past three years, under the leadership of Head Coach, Mark Haggett, our record of 19 wins and 5 losses includes two perfect 8 and 0 seasons and two Championship wins out of three appearances.
This year the Tigers celebrated Dalhousie's 200th Anniversary, handing out 30 awards to ten Decade Greats each from the 50's, 60's and 70's. Notable alumni from the first era of Tigers football were present to celebrate Homecoming and the history of Dalhousie Football.
The goals of Dalhousie Football include the development of young student-athlete leaders, engagement of the football community of Halifax, and promotion of school spirit through engaging Dalhousie students, faculty, alumni, and community members.
Story
As a club team, Dalhousie Football is funded by player fees, sponsors, and our Founders Club. The Founders Club is a group of Dal Football supporters and alumni who helped provide the start-up funds for our team. Since 2010, over 350 student athletes have worn the black and gold of Dalhousie Football. As we near our tenth season in September 2019, we have purchased 60 new helmets as the existing ones reach the end of their ten-year life.
Strategy
Dalhousie Tigers Football is committed to ensuring player safety. That's why we're the first university football program in Canada to order helmets equipped with Riddell InSite® technology, the leading impact monitoring system in football. Over 1200 programs in the USA are currently using this cutting-edge tech.
InSite collects an impact profile for each player during practices and games, allowing for precise monitoring. If an impact or sequence of impacts exceeds a threshold, an alert is wirelessly transmitted from the field to the sideline monitor in the hands of a trainer or coach. This will allow our medical staff to more quickly and accurately pinpoint concussions before a player can sustain any further injury. Additionally, coaches can identify training opportunities on the interactive InSite platform that may decrease head impact exposure.
See the platform in action here: https://youtu.be/QgUkonQFRFY
We hope to pave the way for player safety in university football through this precise player-monitoring system, and through potential research collaborations with Dalhousie.
Impact
The safety of our student-athletes is our top priority. These funds will be directly used to purchase new helmets for the Dalhousie Football Club. Each helmet costs approximately $500, not including fees for upkeep and reconditioning every year. These helmets (Riddell SpeedFlex) were shown to be one of the safest helmets in a recent NFL Study of 34 helmet brands. Already, several past captains of the new-era Dal Football have offered their support for our campaign and we need a little more help from you.
We want to purchase top of the line helmets to ensure the safety of our athletes, reduce concussion risk, and ensure the academic success of our student-athletes. If you are able to make a donation towards the purchase of these helmets our players and coaches would greatly appreciate it. You will get a tax-receipt and the satisfaction of knowing that your Dal Football program is leading all University football programs in Canada in player safety.
Robert Richardson
Eve Wickwire
Robert Merchant
Tom Lynch
Gavin Rainnie
Ralph and Shirlee Medjuck
Margaret & Reid Morden
Bruce Evans
Agnes Quinn Hiscott
Reed and Benedetta Holmes
Gregory Pelly
Tigers football will always be a part of me. I will always remember the good times that I had with the Players and Coaches I had the pleasure of sharing the field with. All the best to the current and future Dalhousie Tigers. You are truly part of something special.
jamie wright
Reid Morden
As I former football Tiger, this donation is in memory of Andy MacKay and others who kept the dream of returning football to Dal alive
Richard Rivers
Football develops youth mentally, physically and spiritually to become a better person!
merv shaw
Tom Lynch
Charlie, Margot Kinal, Rochester
Scott Nordlund
My four years of ball at Dal were truly amazing, and I could not wait to help out as one of the original players on the squad. From winning out first game to the long bus rides across the Maritimes, Tiger football is more than football, it is a family. Enjoy the helmets lads and looking forward to coming back during Homecoming!
Charles Purcell
Jordan Stirling
Boy does the time fly!! It's been 2 years since graduating at Dal, and I miss it so much. This program was by far the best thing I could have done. It helped me developed skills and relationships that I wouldn't have gotten anywhere else. Jim Wilson once said that this is more than just a football team, it's a leadership development program - and I couldnt agree more. During my tenure I learned ba