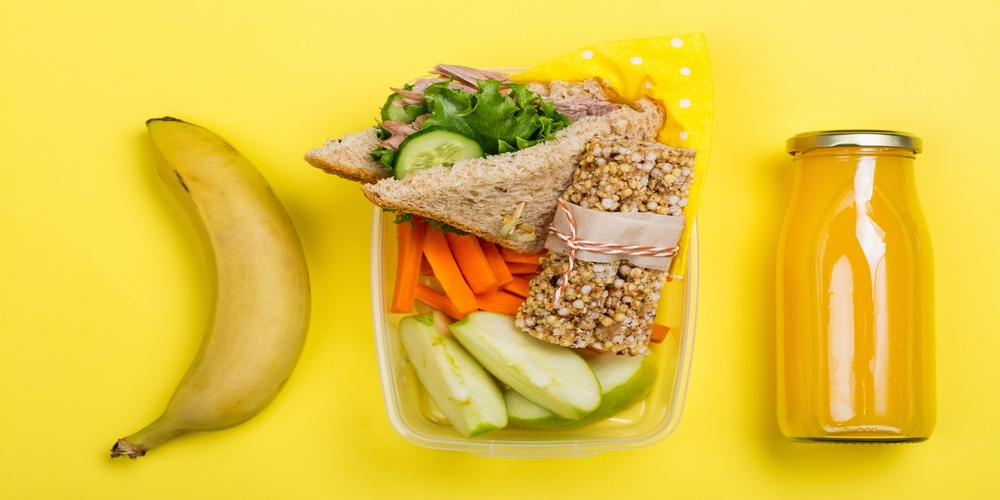 Story
Food security is critical for today's students. When students have reliable access to affordable, nutritious food, it not only fortifies them mentally and physically, but it helps ensure they are at their peak performance academically.
Research shows that 39 per cent of post-secondary students experience some form of food insecurity. What's more, the COVID-19 pandemic is making this situation worse, with loss of employment, social isolation, or reduced grocery store hours affecting food accessibility.
The Dalhousie Student Union's student-led food security initiatives are working to address this growing issue for Dal and King's students. The DSU Food Bank, the Loaded Ladle, the DSU Farmers' Market, the DSU Sustainability Office and the Food Pantry at the Agricultural Campus in Truro are each striving to increase food security for students. They make free food available, supply occasional meals, subsidize the cost of locally grown produce, and provide education about healthy food choices and meal preparation.
With the need for these food security initiatives growing, students need your help. By making a donation to The Food Security Project, you will help us increase food security for Dal and King's students. These funds will impact hundreds of students a month. Any donation – no matter the size – will make a difference.
Just a few weeks ago on Giving Tuesday (December 1st), the J & W Murphy Foundation – the campaign's matching donor – matched all donations to this campaign from individuals up to $20,000. Eight other universities from across Nova Scotia also joined Dalhousie and the Foundation, raising funds to improve food security for students around the province.
Please consider making your donation to The Food Security Project today. Together, we can make a difference for Dalhousie and King's students.
P.S. Along with your donation, we invite you to leave some words of encouragement for students on our Food Security Project donor wall. Your comments will help us learn why you have decided to support this cause, while encouraging others to donate. We can't thank you enough for your support!
Ying & David Gilbert
There's are two important days in our lives, the day we are born and the day we discover why we were born, and with education we are able to enrich the lives of others and make a contribution to our society.
Kuanming Li
Susan Wood
Happy to assist in a small way the wonderful Students at Dal in these difficult times.
MICHELLE ADAMS
This donation was made on behalf of the broader SRES community in support of the health and well-being of our students.
Dalhousie SITE Co-op Office
This donation of $450 was collected from the staff of the Science, Information Technology, Engineering (SITE Co-op) Co-operative Education office who were moved support students in need at this time. We sincerely hope that this small token will be helpful in the collective effort to assist students who need food security.
Heather Irwin
The staff of UGME in the Faculty of Medicine just collected and donated $582.25 to help support Dal students by ensuring they have enough food, especially through the holidays. We encourage all FOM departments to do the same!
Mary Anne Dib
Amazing initiative for our students. Thanks to everyone that made this happen.
Simon Kow
Xinyuan Delores Sui
Graduated from DAL more than a decade ago. Still felt grateful for the learning at DAL and the wonderful professors I had. has been donating for most of years after graduation. Stopped for 2 years due to some personal life circumstances. It was great to donate again, especially for a good cause and with a matching funding too.
Cindy Lou Jensen
Congratulations for a wonderful effort!
Arvin Ramlakhan
Glad to support this fantastic cause!
Colin Spinney
Gift in lieu of Dalhousie Treasury & Investment Holiday gathering. Fintreas@dal.ca
Karen Watts
Julianna Gabor
Jason Strandberg
Happy to support such a great project that will do a lot of good!
Marjorie Stone
Food security is such an important issue, within university communities as elsewhere, especially tied to support for local food producers. Mens sana in corpore sano. Can't have one without the other. Kudos to those who initiated this project, especially at such a difficult time for students and young people in a precariat gig economy with few gigs available.
Stewart McKelvey
Cox Palmer
McInnes Cooper
Thomas Rhymes
Valeri MacDonald
As someone that found herself accessing the local foodbank while in University, I know the anxiety that food insecurity can cause. The reception I received there was surprisingly judgemental. They obviously didnt want a student to take from a family that also was in need. I only went once, but never forgot my demeaning experience. I am a successful business owner and health professional and ha
Kelly Batstone
C.Patricia Maccagno
Sobey's Inc
Atlantic Superstore
Pizza Delight
Allison Langille
Margaret Shirley
I'm pleased to contribute to this wonderful initiative.
Lale Kesebi
Barbara Sinclair
Lois Bateman
Ann Vessey
J & W Murphy Foundation
Sharon Sinnott
Everyone needs to eat!! Students need the encouragement!
Donald Johnston
Cynthia Black
Many are having a hard time during this pandemic. We are currently helping locally and as far away as Africa and Mexico. If everyone just helps a little....
Christine Price
Barbara Winter
Robert MacKinnon
Sandra Farrell
Rochelle Owen
James Riordan
I don't wish to see student loose focus on their studies due to problems of limited personal funding for their own wellbeing. There are enough pressures while studying away from home especially during the pandemic restrictions in 2020. James Riordan
Susan Brousseau
Valerie Chappe
Ann Pyne
Lord Abbey
It is my moral obligation to Love through whatever means possible, so long as it will make somebody smile.
Margaret Dunbar
Food is not just a necessity, it is a comfort in good times and in bad. We all deserve some comfort in these most challenging times!
William Rand
Danielle Melanson
Eric McKee
Cynthia Pilichos
Food insecurity is a sad reality for many students on the Dal/King's campus. If we all give, even a little, we can helps students to be able to focus on their studies. Every contribution helps!
LEX MACNEIL
Please continue to enjoy your time at Dalhousie, Lex MacNeil
Alasdair Sinclair
Laurie Jennings
Kate Somers
Raymond Cote
We are contributing on behalf of Brian and Hughena Boyden
Stephen Sayle
SayleGroup Inc is proud to make this donation on behalf of Mac Sayle.
Andrew Stadnyk
Hargurdeep Saini
A mind at peace and a full belly are essential to effective learning. Thank you for helping create these conditions so our students could focus on their learning.
Cuong Nguyen
It's great that I could contribute back to my beloved university.
WM FARES GROUP WM FARES GROUP
Sarah Ready
Dillon Consulting
Dillon Consulting is currently running a national Million Meals campaign initiative, supporting various food security related initiatives from coast to coast. This Dal initiative fits well into Dillon's campaign. Dillon's offices in Nova Scotia (2 in Halifax and 1 in Sydney) are comprised of many staff that have graduated from Dal and continue to support the university and its community. Great ini
Bruce Crooks
No-one should go hungry in today's society. Nutrition is also essential for performance. For students trying to further their education keeping food on your plate should not impede your work and efforts to succeed. Food is a human right
Lawrence Harris
edwin luther
Katherine Stringer
Reflecting on the generosity of others in my own life, makes this donation all the more meaningful
Matt Proctor
Marie Dauphinee-Booth
Robert Currie
anthony lyons
I sadly remember one year that I dropped over 15 Lbs . I could only afford one meal per day. My mother cried when she saw me at Christmas. Too proud to ask for help, I guess. Thank You for doing this for the students and removing the stigma.
Raylene LeDrew
It's important to support students so they can reach their full potential. We all need a little help along the way. I think there's power in numbers and working together. Every little bit helps!
Tanya MacLeod
When I was a university student, I struggled to afford nutritious, quality food and the time to prepare it. A typical meal was pan fried frozen veggie mix, mr noodles and eggs- probably nutritious enough, but low on freshness and quality. I was so fortunate to have a local church that supplied free fruit, veggies, whole grain breads and special holiday meal boxes- it meant so much to have this sup
Heather Sutherland
Stacey Scott
Such a fantastic project! Attending university is incredibly expensive in Canada. This project will help students continue their studies knowing the Dal community cares about their wellbeing and their success as students.
Nick Tentomas
Thank you and Happy Holidays!
Mark DeWolf
King's and Dalhousie gave me a wonderful boost toward a life that has been fulfilling in a great number of ways.
Alex Speed
Robert Lewington
Wishing all Dal students a very happy holiday season and a delicious Christmas meal. Robert A. Lewington, BPE '76, sports HOF 2015
Andrea Drysdale
Daniel McElroy
Ethel Kostman
Elizabeth Thompson
What an incredible project. So glad I could help!
Lori Andrews
Robert Zed
You-Zhi Tang
Linda Gagnon
University is so much more expensive than in my day.
Nancy Morrison
Laura Leadbetter-Fuoco
My father passed away one month into my first year at Dalhousie. It was an incredibly difficult time and along with my personal loss, added additional financial pressures. I understand the challenges students face and I try to help others as much as I can.
Susan Tziolas
Sounds like an excellent project to support healthy eating knowledge.
Scott Burbidge
"Sharing and donating food is about human solidarity"
Brian Arkelian
Jeff Forbes
KBRS (Knightsbridge Robertson Surrette)
Jason Yung
Pita Pit
elizabeth Ryan
Devarsh Sood
Great initiative especially in these challenging times.
Norma MacIsaac
Chris Makuch