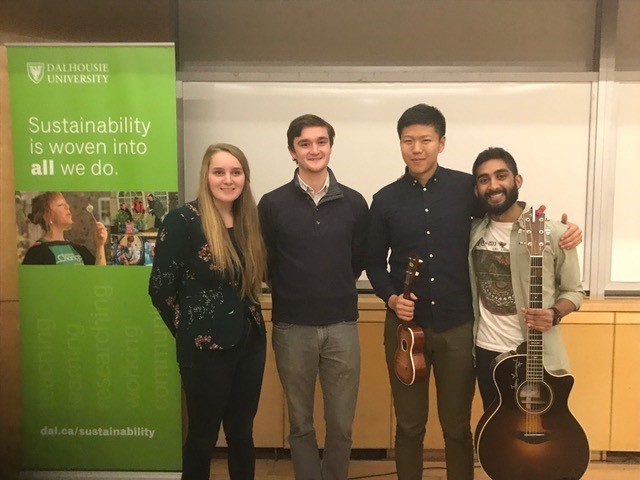 Story
"I really enjoyed the community at the College — I met so many like-minded people who are trying to make a positive impact on the world." Bridget Graham ESS/CANA 2015
In 2019, Dalhousie's Environment, Sustainability and Society (ESS) program celebrated 10 years of enabling Sustainability changemakers. For over a decade, the program has empowered students to address the world's complex issues, from water and energy security, to climate change and environmental justice. With nearly 600 graduates to date, ESS alumni have gone on to become leaders and changemakers who examine humanity's important place in the natural world.
To help support and acknowledge the dedication of ESS students, a new scholarship has been created. The ESS Alumni Scholarship will be awarded to a student entering the second year of the program who demonstrates high academic achievement and a keen interest in sustainability and community engagement.

Coming Together
"To be recognized as a champion for the cause of sustainability, diversity, and equity in my community was truly humbling. And the practical impact that this award will have on my studies is something I am so grateful for."
Maya Tomlinson, Second-year ESS Student and 2021 ESS Alumni Scholarship Recipient
Now, we are raising funds for the ESS Alumni Scholarship fund. With your donation, you'll help provide financial support to a deserving student, recognizing them for their dedication and lessening their financial burden so they can focus on their studies. Your gift – of any size – will make an impact in shaping the future of leadership in environmental change and sustainability by allowing this scholarship to be offered annually in perpetuity.
If you would like more information about this campaign or how to make a one-time gift or to set up a monthly donation, please contact Jessica Farrell, Associate Development Officer, at jessica.farrell@dal.ca or 902.220.8717
Photo (DAL alumni left to right): Cassie Howard (BA 2019: ESS/POLI); Jack Bennet (BA 2017: ESS/MUSC); Uytae Lee (BCD: ESS/PLAN) and Sidath Rankaduwa (BA 2018: MUSC/NUSC)