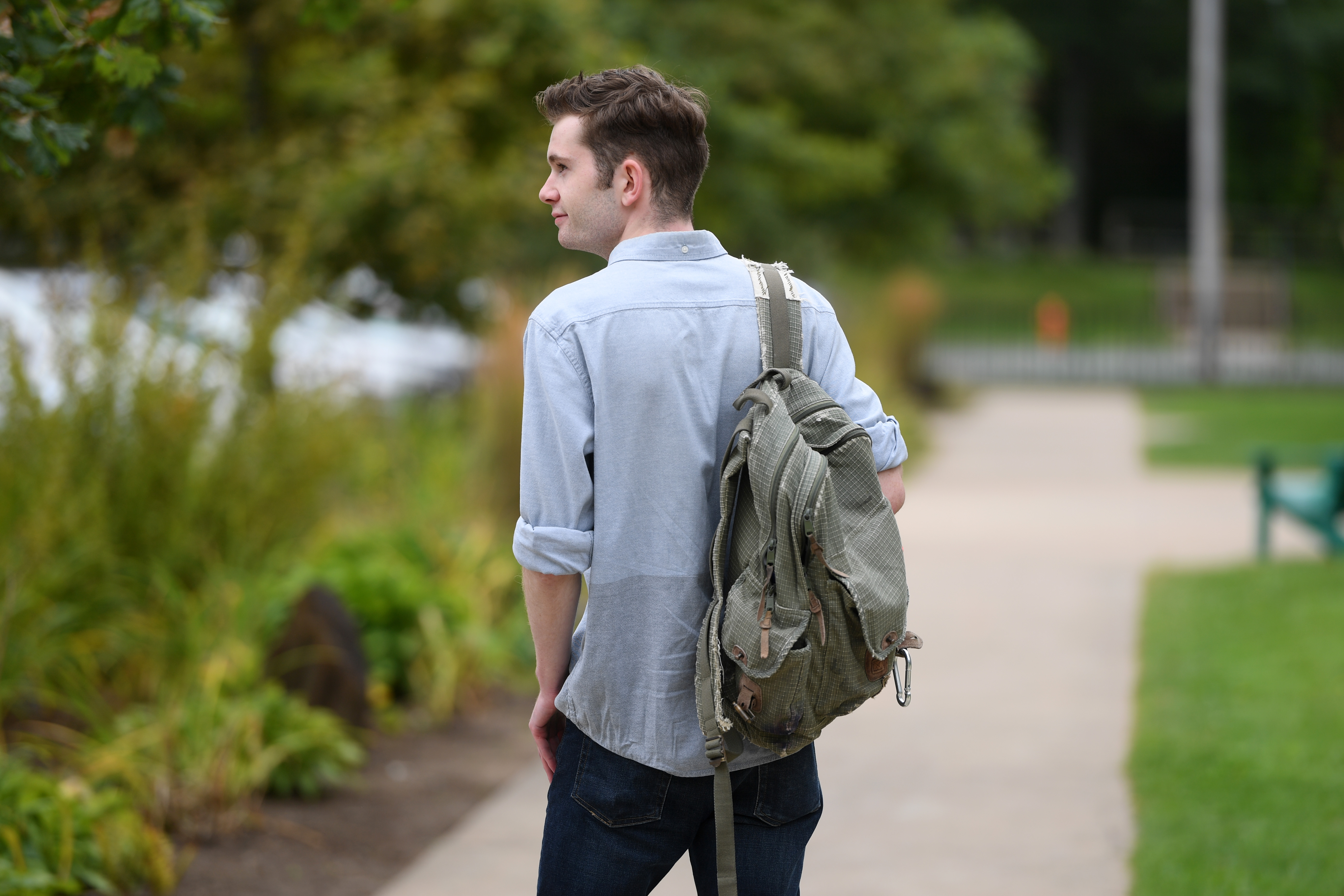 Impact
It's a powerful thing when a community comes together to support those who are struggling. That deep-rooted concern and compassion for one another is what makes the Dalhousie community truly great.
Many Dal students are facing unprecedented and immediate hardships as a result of the COVID-19 crisis, and they need your help. Your support to the Student Emergency Relief Fund will go to the area of greatest student need during this crisis, such as:
• Loss of part-time or summer employment
• Unexpected travel costs and travel restrictions
• Food insecurity issues
• Housing concerns, including rent and utilities
Your donation – no matter the size – will have an immediate and lasting impact on Dalhousie students as they navigate through this unprecedented time. Every dollar helps. If you would like more information about this campaign or how to make a multi-year gift, please contact: Ben McIsaac, AVP Development at Ben.McIsaac@dal.ca or by phone at 902-494-4576.
Paul Beesley
Chi Perrie
I just want to help students at this difficult time.
Raghav Sampangi
Let us all work together as we make our way through this reality, to create a harmonious and compassionate new normal.
Zheng Pang
We are all in this together because we are DAL!
Siobhan Hanratty
Vincent Sweeney
I am sure that there is a need. I hope that those who are truly in need are assisted. I'm not sure that persons living in Canada have really experienced severe hunger, so I hope that the funds will be well used.
Stephanie Jaffres
Gita Anand
John MacLatchy
Kathie Wheadon
Anne McLellan
Jérôme Blais
Roderick McInnes
Goyette Nathalie
Elena Powell
I hope that by supporting the Student Emergency Relief Fund students in need can be helped -- these are very difficult & challenging times.
Colin Richardson
Anne-Marie Charron
Thor Kuhlmann
Paul Mombourquette
Ellen Jost
A worthy cause! I was a student once too and can appreciate these difficult times.
Stephen Knowles
Josephine Muxlow
These are challenging times for some students. Thus, it is important to support students as you would like to be supported should you be in the same situation.
Debra Pepler
I would like to dedicate this to the President of Dalhousie University, Dr. Deep Saini, who wrote me a most encouraging personal note earlier this year. His thoughtfulness in reaching out to me personally, with a supportive letter, is most appreciated. As a former student who benefitted tremendously from my years at Dal, I am eager to support the students of today who are facing unprecedented cha
Shashank gupta
Renelle LeBlanc-Scott
I just can't imagine being a university student, struggling already financially and having to navigate the perils of quaranting, social isolation and loss of summer employment/clinical hours... I hope this small amount can help alleviate a bit of that worry for existing students!
Colin Conrad
Patricia Figueredo
I want to support students in need at this critical time so that can succeed with their dreams.
Indranil Dutta
We shall come out of this soon and will be stronger together.
Terri Langille
Ruth Martin-Misener
Judy Wells
This may be the area of the most immediate need, so I hope it is useful.
Donald Church
Simone Abbass
Margaret Langley
Anna Cranston
So many students rely on the salary they earn completing work-integrated-learning and summer jobs in order to support their academic pursuits. The impact of Covid-19 on the availability of student jobs is enormous. Having worked in the student career field for the lions-share of my university career, I am thrilled to be able to support this project Dal initiative using the money I am saving on ga
joyce hoeven
Stay strong ... stay focussed and above all .... be kind. We are all in this together and together we will overcome our current challenges.
Frances Wilkinson
Even in good times, many undergraduates live on the edge financially. As a retired professor, I can only imagine how stressful this pandemic period must be for young people, just starting their careers and trying to complete degrees.
Jonathan Fourdraine
Back in the mid 90's Dalhousie was there to help me as a student during a time of need. Happy to "pay it forward" during these uncertain times.
CARMICHAEL WALLACE
RETIRED FACULTY ARE LUCKY TO HAVE AVOIDED THE TRIBULATIONS OF BOTH STUDENTS AND TEACHERS IN TRYING TO SUCCESSFULLY COMPLETE THE ACADEMIC YEAR. I HOPE MY GIFT WILL HELP DESERVING STUDENTS TO ACHIEVE THEIR GOALS.
Cynthia Pilichos
As an alumna, my heart goes out to students who are adversely affected by Covid-19 and the impact it has had on life as we have known it. Best wishes to them all.
Wynne Lock
Ron Beaton
Best wishes to all the students at Dal during this challenging time. It will pass.
Margaret Marilyn ( please use M Marilyn for all but tax) Hutchings
DON ROGER
Brenda Merritt
Wilma Mays
edris dookie
Jean Macdonald
Susan Mansour
This pandemic is having such a negative impact on us all, not the least of which are the students who work so hard to have the means to obtain an education. It must be so isolating and frightening for them in so many ways and I hope that I can help ease someone's burden a little.
Ingrid Dandanell
Shin Woon Chan
Thanks for the university helping student to continue learning in a safe environment during this unprecedented time.
Martha Ferguson
Together as a community we are strong and will ensure we all get through this! Stay strong and positive and know this is not forever!
Judy Flecknell
Reid Morden
The ability of students to continue their studies is vital. Education is the foundation of a functioning, civil society
Watanabe Toshifumi
Studying is important for students themselves as well as for the society and more for the earth. Regardless where to live, I am proud of studying at Dal and hope increasing more students thinking the same way.
Jane Walker
To all Dal Students, Stay strong. Explore options to stay in school. You will get through this. Thinking of you and sending virtual hugs!
Janet Cooper
Gurminder Singh Chahil
Lisa Goldberg
As we pull together through acts of compassion as a community to support our incredible students, I encourage each of us to give wherever we can. It is only through these generous acts of kindness where we collectively come together that we are able to make the difference needed to see our students thrive.
Lara White
This is a great initiative to help students in need. Most Dal students are working their way through university... I used to be one of them and the loss of income would be catastrophic. I hope this little bit helps.
Robert Craig
I thought this would be of great help to Dal's students as they're struggling with the inconveniences of the current pandemic.
Eric Brown
Xiaoming Ye
Dalhousie is a great and warm family. We are all together and show solidarity under current circumstances. In addition, this is to pay back what I received from Dalhousie over twenty years ago.
Teri Balser
We all can use a little help. Be good to one another! And stay safe.
Graham Gagnon
Bernard Hibbitts
Indranil Dutta
Laurel King
I remember being a student and scraping together loose change for groceries some weeks. I hope this helps someone to go shopping for some staples to help eat decent food while they are finishing their academic year under bizarre and unexpected circumstances.
Lesley Brechin
Rajasekaran Lada
Heather Sutherland
Kate Somers
Ian Bezanson
Brian and Lisa Johnston
Eshwar Kotturu
Jeffrey Roy
Deep Saini
Siobhan Doherty
Dal students are always deserving of our support but now is the time they need it most. I am happy to contribute during this difficult time in the hopes I can make things a little easier for someone else.
Catherine Currell
Matt Proctor
Judith Guernsey
Ultimately it is our students who are the reason for us being at Dal.. They are our future and in whom we should all be investing during this very difficult time!!
Laurie Graham
Jennifer Pierce
Ben McIsaac
Peter Fardy
Pollen Yeung
Students need help in time of crisis like during the pandemics. I am happy to offer my help!
Michelle Hunter
It is important that the Dalhousie community come together to support our students in their time of need. Stay Strong...Stay Safe...Stay Well. Michelle
Rochelle Owen
Ankush Randhawa
Dalhousie (and Halifax) was a warm embrace to me as a foreign student, first time out of my country. Our community will see us through. Stay strong everyone and stay connected.
John Jenkins
I went to Dalhousie very young and did not do well as I lacked direction. When my business venture on the Islands of Halifax Harbour was blocked from growth I decided to return to school at 31, with 3 kids and the support of my wife. I am grateful to Dalhousie for allowing me a second chance and allowing me to learn a trade which has given me a tremendously rewarding career. Good Luck to you all !
Dr Finlay Spicer
I remember some hard times as a student, I cannot imagine anything as difficult as the uncertainty facing students.
Chris Field
My thoughts and prayers go out to the students unable to return home. They are such an important part of our community and deserve all the support we can give them.
Marty Leonard
Alain Boutet
Support to students is the very essence of an higher education institution, and Dalhousie University surely embraces this idea, particularly in times of crisis.
Patricia Livingston
We care, please stay well. Love
Jessica Han
Anders Hayden
Ann Pyne
These are unprecedented times and students need our help. Wishing everyone the best of health.