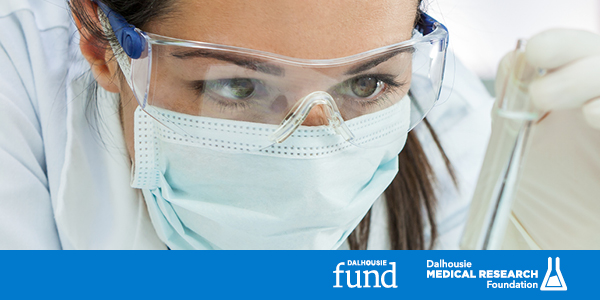 Vision
In response to the worldwide coronavirus outbreak, Dalhousie researchers are working toward the development of a vaccination to help put a stop to the spreading of the virus. You can help conquer coronavirus by supporting the development of vaccines and antiviral drugs, led by the Dalhousie Medical Research Foundation (DMRF).
Strategy
As an internationally acclaimed institution for research in infection, immunity, inflammation and vaccinology, Dalhousie is a global leader in the discovery and development of new vaccines, antiviral drugs and other life-saving viral therapies. Recently, our team of researchers led the development of novel cancer-fighting viruses, which are now being used to treat melanoma. We have also developed the first effective Ebola vaccine to first-in-human clinical trials, in partnership with the Canadian Centre for Vaccinology here in Halifax. These are just two examples of the many developments made by our team.
Dalhousie is well-positioned to successfully put a stop to the spreading of the virus. Your donation will be directed to the Dalhousie Medical Research Foundation and invested to help fund the critical work being done by researchers to conquer the virus. Donations will support the development of vaccines and antiviral drugs, helping to stop the current spreading of the virus and preventing future outbreaks.
To learn more about the Dalhousie Medical Research Foundation, please click here. If you would like more information about this campaign or how to make a multi-year gift, please contact: Joanne Bath, CEO, DMRF at Joanne.Bath@dal.ca or by phone at 902-494-1978.
In The News:
Dalhousie Researchers join the global fight against COVID-19 with nearly $2M in federal funding. Learn more here.
Supporters
Merville Vincent
Shashank Gupta
Jesse Arsenault
Ingrid Dandanell
Lois (Cameron) Thompson
Elizabeth Joyce
I am proud that my employer and my alma mater is working to find solutions to this global threat.
Ahter Ezgi Tekin
Always proud to be part of this amazing institution as an alumni, i hope the amount of effort spent by your amazing team will benefit humanity. Wishing you all the best in your tough journey.
yee shing (John) Tse
for a better future of humanity
Nathan Locke
Dino DiMattia
Jonathan Barry
Kudos for the work in this area and for reaching out to ask for help in funding it. The potential impact of a vaccination for COVID 19 has far-reaching implications and applicability to global health, and therefore I would encourage anyone thinking of helping to support the cause. It is not just a short-term solution, but one that will help those in most need around the world.
yee shing (john) tse
better future for humanity
Karthik Rammoorthy
AILEEN HEISLER
Kathleen Stairs