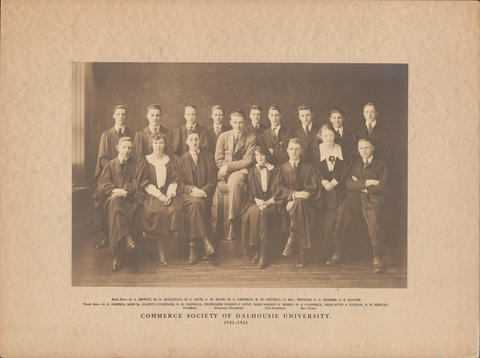 Story
Dalhousie's Bachelor of Commerce is celebrating 100 years of history and success. As one of the few accredited co-op commerce programs in the country, this degree has shaped some of the today's brightest business minds.
From the first three BComm graduates in 1923 – Mary J. O'Connor, Osborne R. Crowell and Hiram C. Muir – to the 8,000 alumni currently advancing industries and creating change around the globe, we are proud to commemorate the Commerce program and all of you who have helped shape its success.
"I decided to study Commerce at Dalhousie because I know that I will get a quality business education. It has given me confidence in building my resume and in my ability to have a meaningful career when I graduate." – Sasha Paikin, 2020-2021 Dalhousie Commerce Society President.
Today's students are facing unique challenges as the result of the COVID-19 pandemic. As part of our year-long celebration, we launched the 'Commerce 100 Fund' as an opportunity to provide a helping hand to our students and future leaders.
This fund will provide immediate assistance to Commerce students during this difficult time. From providing technology that will enable students to study remotely or financial assistance for tuition and living expenses, we want to ensure that students can remain focused on their education.
If you would like more information about this campaign please contact: Lori Bauld, Lori.Bauld@dal.ca.
Supporters
Catherine Charles
Eric Aldous
Janet Aldous
Nicholas Portman
Lonnie Atkinson
Having graduated in 1974 I continue to apply the insights explored and rediscovered throughout my life. I hope the Commerce100 Fund will have a lasting impact on students needing encouragement in their studies and beyond.
Sheila Blair-Reid
I am pleased to support students in need as a way to mark 100 years of Commerce at Dal. As a proud alum I am most excited about the new graduates and the impact they will make on the world!
Tonie Chaltas (Arnold)
From being the President of the Commerce Society, leading the renovation of the commerce house to friendships that have lasted a lifetime, my time as a Commerce student set me on my path. Thank you Dal!
Wade Bo-Maguire