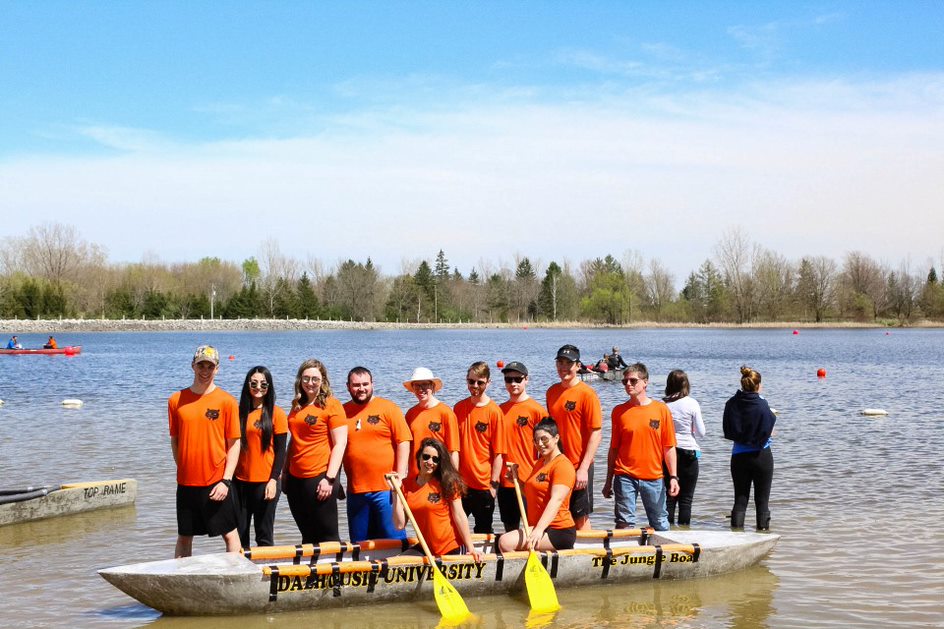 Vision
The Dalhousie Concrete Canoe Team project is a hands-on project for students from all Engineering disciplines. Each year, a 20-foot concrete canoe is designed and built by participating students from scratch. The canoe is then raced in the Canadian National Concrete Canoe Competition against over a dozen other schools from around the country. Year after year, the designing and construction of the boat provides a new group of students with the opportunity to gain valuable hands-on experience while applying our lessons from the classroom.
Story
Our team has been working tirelessly since July of 2018 creating a plan to have an even better year for the Dalhousie Concrete Canoe Team. We have been ordering supplies for our canoe, including light weight Aggregate, K25 glass beads, and blast furnace slag. We also started concrete test batches in mid-October and finalized our mix design by the Holidays. After the mix was finalized, we made our mould with the help of Dalhousie's CNC machine and some very skilled mechanical engineering students. We will cast the canoe this season so it will be ready to paddle by the end of March. That will give the team some time to take it out for a few test runs and practice paddles before we send off to Montreal to compete in May.
Strategy
Since 2016, over 40 students have been involved in the Dalhousie Concrete Canoe Team project. Each year, participating students bring even more experience and knowledge than the previous year. In 2018, this resulted in Dalhousie placing 7th in multiple races, beating almost half of the competing schools. With such big improvements each year, the 2019 competition is set to exceed expectations as our Team looks to not only place higher, but to expand the project in the coming years.
Impact
For this campaign, we are asking for $1,100 which will help us achieve a competitive edge with our boat through the use of better materials, without being limited to cheaper, less sustainable options.
Updates
Supporters
Robert MacEachern
Carlos Guzmanõ
Moyle Crouse
Deborah Newcomb
Wishing you much success!
Douglas MacEachern