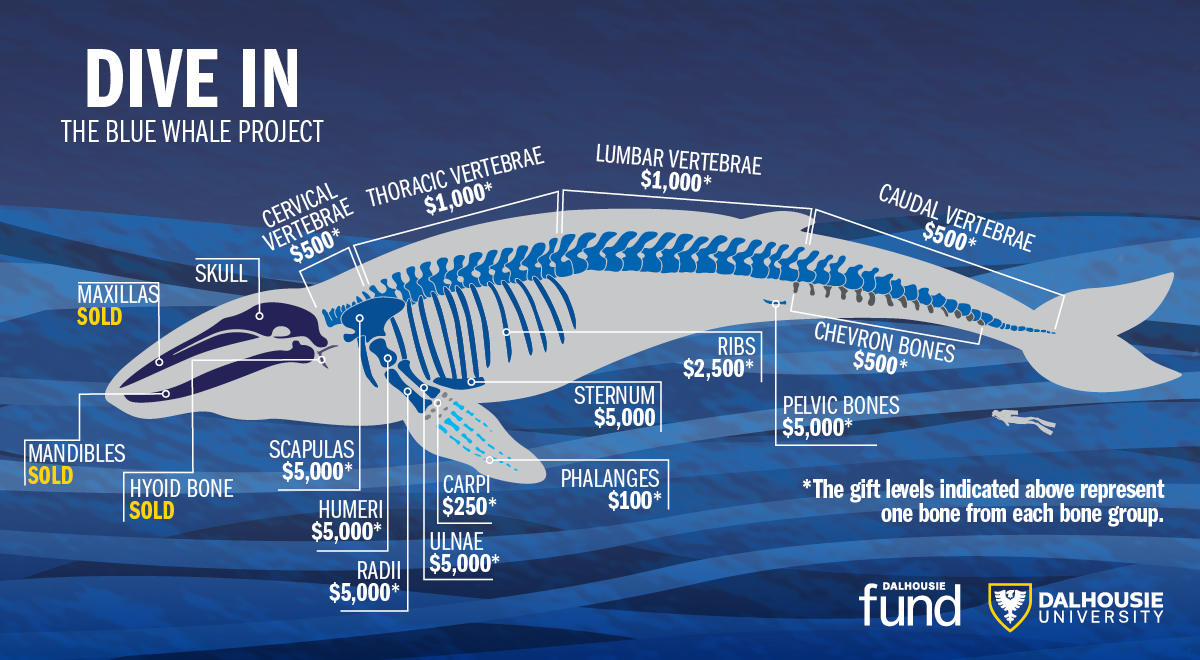 Vision
The time is now to make your mark!
The majestic blue whale is the largest animal to have existed, sitting at the top of the ocean's food pyramid. Growing to be more than 100 feet long and weighing as much as 200 tons, the blue whale plays a critical role in maintaining our oceans.
Despite its size and significance, the blue whale is an endangered species. Reducing the threat to this extraordinary marine mammal requires research and public education to help guide better policy and practice.
That's why, when a deceased blue whale washed up on the shores of Liverpool, Nova Scotia in 2017, two Dalhousie professors seized the opportunity to turn this tragic loss into a meaningful and educational experience for students, and the community.
The bones of the blue whale have been prepared and preserved by Dalhousie students and faculty, and are now being prepped to be mounted in the atrium of Dal's Steele Ocean Sciences Building in the fall of 2022! With this permanent new fixture, Dal will join the ranks of the Royal Ontario Museum and the Natural History Museum in London in displaying blue whale skeletons as an educational tool and a poignant reminder of the care we must take to protect our oceans.
Dive In: The Blue Whale Project continues to raise funds to help support the time and resources needed to bring this project to life. Your donation will attach your name or the name of the loved one to the project, becoming part of this important community exhibit.
A number of bones are still available! Make your mark today!
For more information about donating, please contact Clare MacDermott, Annual Fund Manager, at clare.macdermott@dal.ca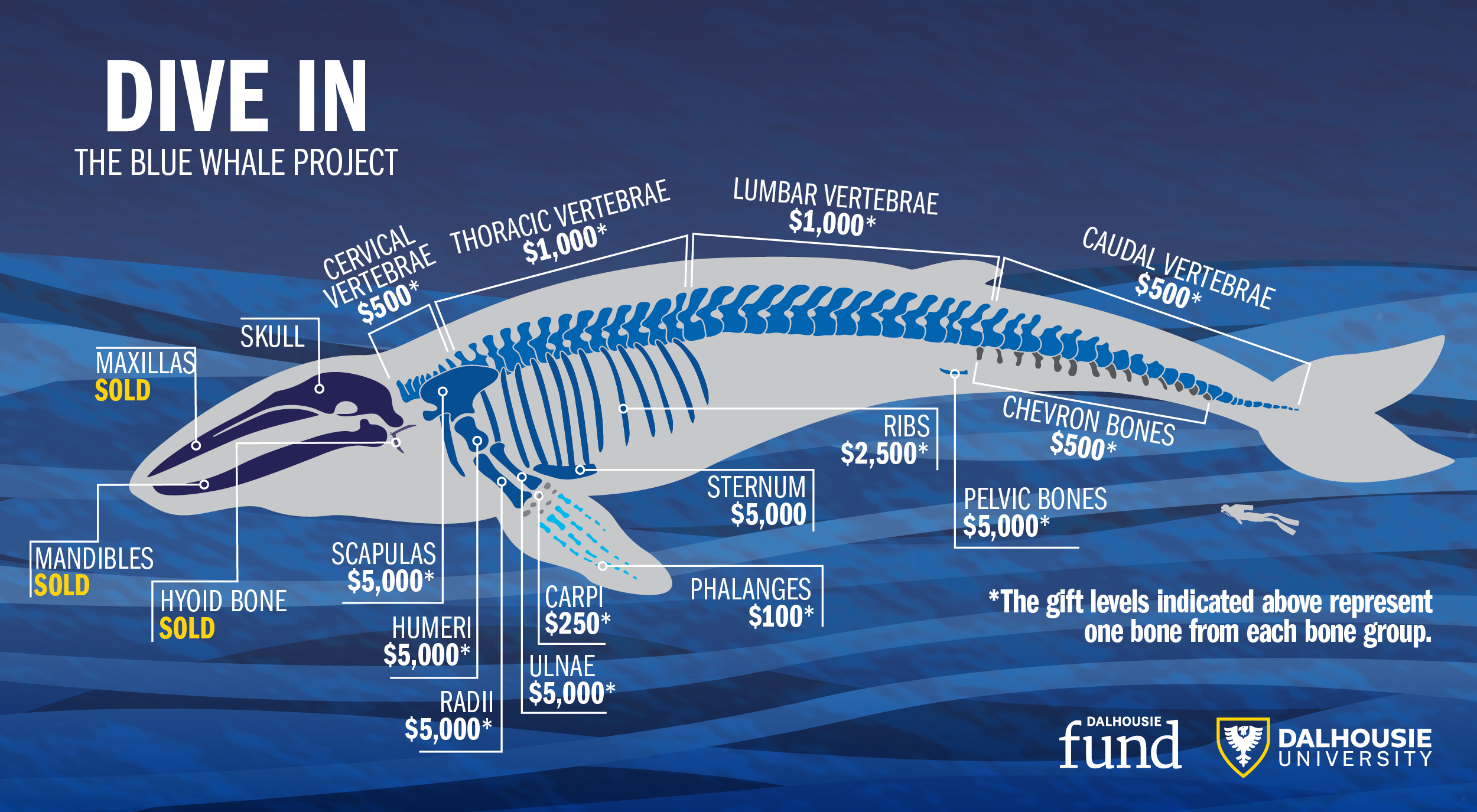 IN THE NEWS:
Blue whale to soar through the air in Halifax by this fall, Saltwire, June 10th 2022
Supporters
Anne Timmins
Laurena MacAdam
Hon. Wilfred P. Moore
To repeat my statement in the Senate of Canada in January 2016 as sponsor of Bill S-203 (end captivity of whales and dolphins): "Whales and dolphins do not belong in swimming pools."
Jane Ritcey
Donald Maynard
Dal Biology of the 70's and 80's was the fuel for the curiosity that opened the world of science to me.
Graham Doyle
This will enable faculty and students to learn more about this large whale.
Isabelle Aube
"As a teacher, I am always learning. The Blue Whale Project is a great example of this."
Laura Wood Jacoby
Ian&Caroline Wood
Jill Hayden
Donated on behalf of the Dalhousie BACK Program, a Dal Med team doing research on back pain. We support this initiative to raise awareness about the connection between environmental sustainability and human health. And yes, we named a BACK bone!
Owen Sherwood
What an honour to support this amazing educational opportunity for the Dal community.
Adrienne Junek
What a great way to give back to science, oceanography, and the study of our planet.
Donald Ross
Katherine Kerley
For the love of the ocean, to inspire future scientists.
Alex Mifflin
Franklin Schwing
As an alumni (PhD 9189) I recognize the great education Dalhousie provided me and generations of scientists who are making a difference for society and our environment.
Paula Mercer
Laura Pritchard
Joanna Butler
I think that this is a great project that helps to educate all of us about the blue whale through the collection, restoration and display of this magnificent animal's skeleton at the ocean sciences building at Dal. I am glad to be able to help push the project forward in a small way.
Sarah Chamberlain