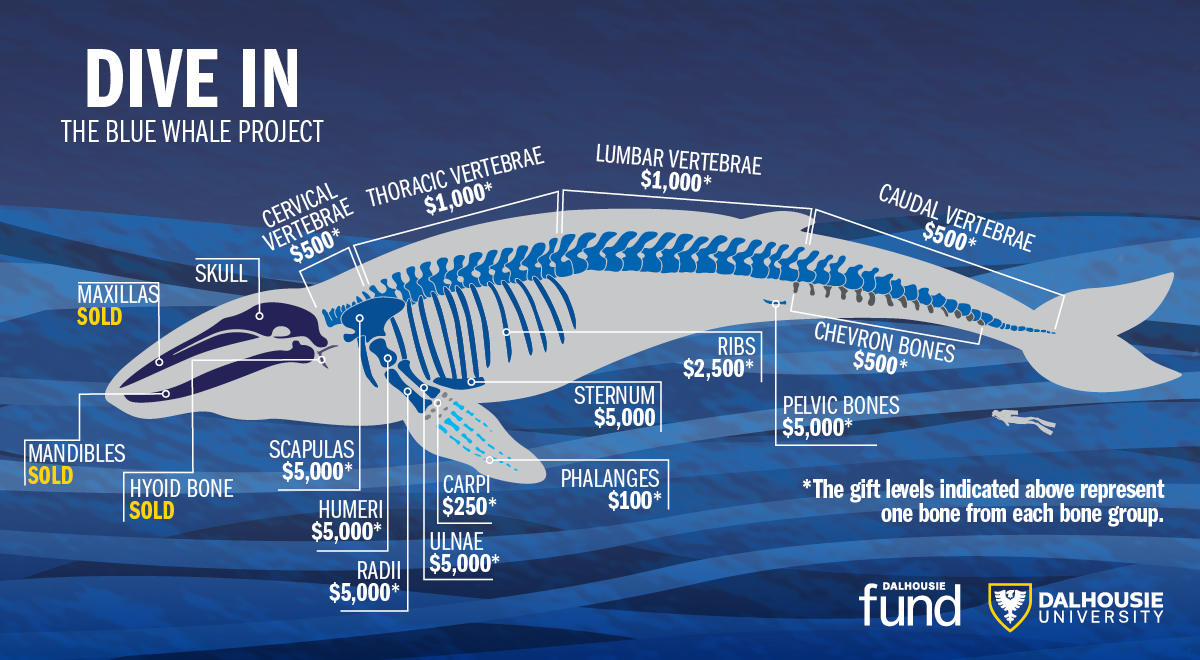 Vision
The time is now to make your mark!
The majestic blue whale is the largest animal to have existed, sitting at the top of the ocean's food pyramid. Growing to be more than 100 feet long and weighing as much as 200 tons, the blue whale plays a critical role in maintaining our oceans.
Despite its size and significance, the blue whale is an endangered species. Reducing the threat to this extraordinary marine mammal requires research and public education to help guide better policy and practice.
That's why, when a deceased blue whale washed up on the shores of Liverpool, Nova Scotia in 2017, two Dalhousie professors seized the opportunity to turn this tragic loss into a meaningful and educational experience for students, and the community.
The bones of the blue whale have been prepared and preserved by Dalhousie students and faculty, and are now being prepped to be mounted in the atrium of Dal's Steele Ocean Sciences Building in the fall of 2022! With this permanent new fixture, Dal will join the ranks of the Royal Ontario Museum and the Natural History Museum in London in displaying blue whale skeletons as an educational tool and a poignant reminder of the care we must take to protect our oceans.
Dive In: The Blue Whale Project continues to raise funds to help support the time and resources needed to bring this project to life. Your donation will attach your name or the name of the loved one to the project, becoming part of this important community exhibit.
A number of bones are still available! Make your mark today!
For more information about donating, please contact Clare MacDermott, Annual Fund Manager, at clare.macdermott@dal.ca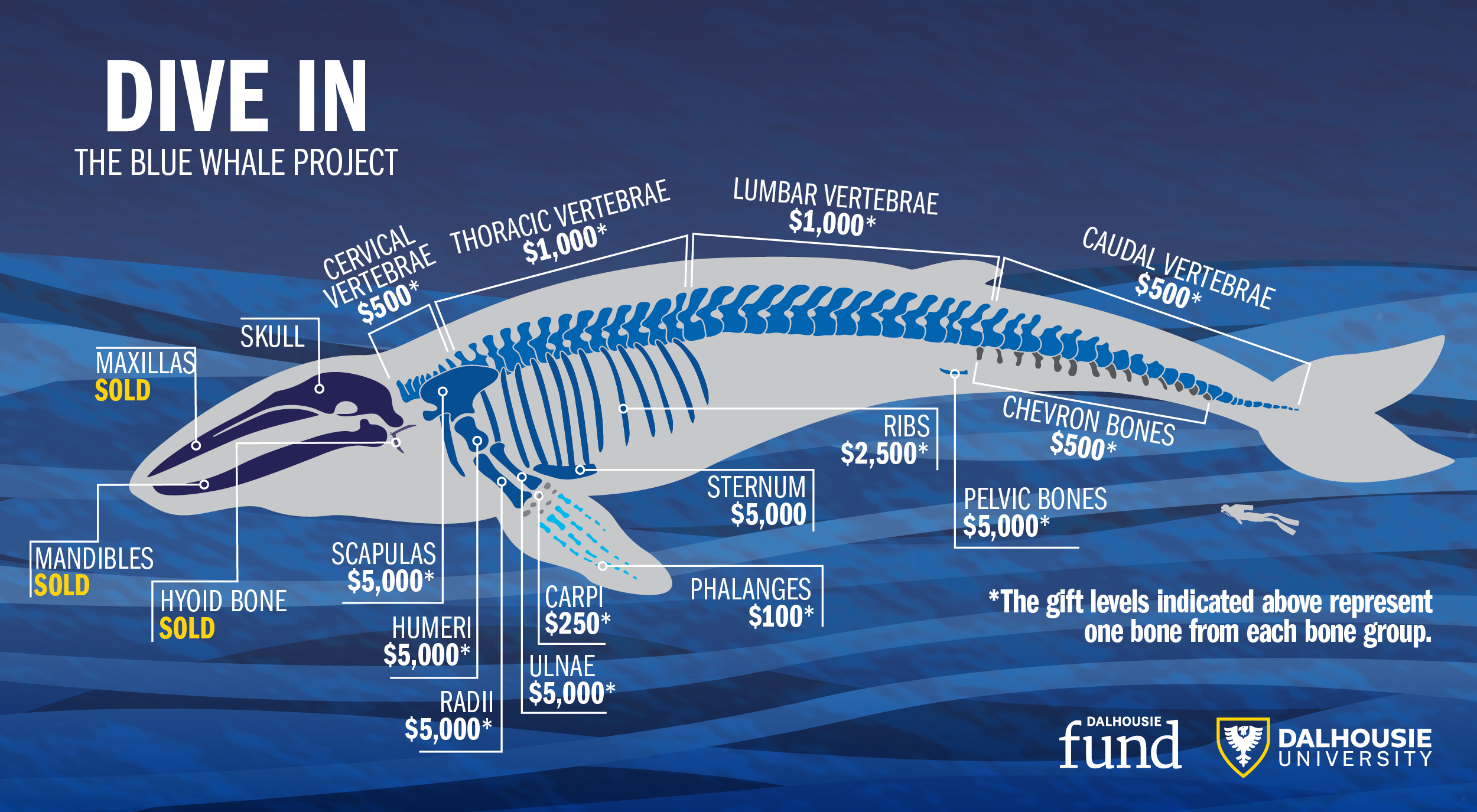 IN THE NEWS:
Blue whale to soar through the air in Halifax by this fall, Saltwire, June 10th 2022
Supporters
viviane amyoony
what an extraordinary project we are excited to see it bravo!! amyoony family
Lori Ward
James Jenkins
An inspiring project I hope will help many people understand the importance of protecting endangered species and turn their concern and intent into action.
Sophia Foley
Sarah Varley
What a wonderful project!
Rod & Robin MacLennan
REG MACLEOD
Terence Bassett was my father-in-law and he had a great interest in whales of all types. This donation is in his memory.
Douglas Chaytor
My inscription recognizes my uncle, Capt. Johan Carlson Borgen, an internationally prominent whaling captain in the first half of the 20th century. I still remember him saying that there needed to be a stop put to the killing of whales.
Roderick Kelly
Saving the planet one species at a time! Roderick Kelly
Graham Doyle
Chris Moore
To Dr. Chris Moore, In appreciation for your leadership and dedication as Dean of the Faculty of Science from July 2009 to August 2021. The Dean's Office Crew
Danny Shires
Alicia Daley
Alan Sutherland
Great to see all the work being done to preserve and inform about ocean creatures. Keep swimming.!!
Dale Levandier
Significant advances in knowledge happen occasionally through chance, unanticipated events: the recovery of a Copper Age "glacier mummy" or the discovery of a blue whale carcass on the beach. It is a credit to the researchers who recognize these opportunities.
Jennifer Feenstra
Lillian Pothier
Great idea. Excited to see the exhibit.
Nancy Hayter
What a great science project. Looking forward to seeing the final exhibit next year.
Sarah E Stevenson
David Barclay
In honour of Danielle Moore, from the faculty and students in the Department of Oceanography.