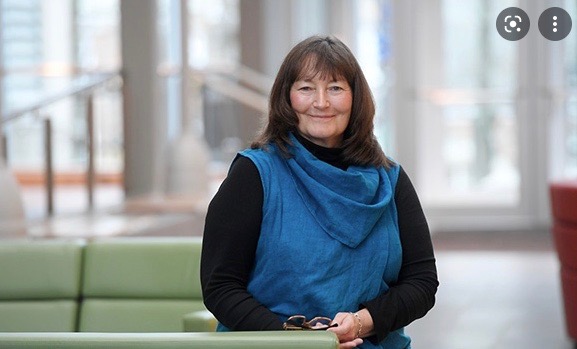 Story
Anne Marie Ryan PhD (MEd, MSc, BEd, BSc), faculty member and University Teaching Fellow in the Department of Earth and Environmental Sciences, passed away unexpectedly on January 20, 2022. Anne Marie was a geologist, teacher, and leader. During her early career she was attracted to "hard" rocks (igneous and metamorphic), and tectonics, but later developed an interest in the new field of Medical Geology. Her published work has been regularly cited, and influential in the field of environmental geochemistry.
Anne Marie was incredibly talented and passionate about teaching and learning, especially in the sciences. She understood the unique challenges, perspectives, and considerations of teaching science and worked tirelessly to ensure these perspectives were included at all levels of the institution. Anne Marie also loved sharing her passion for the natural world by taking students outside to see and learn firsthand about the world around them.
Anne Marie's substantial impacts on the world of teaching and learning are apparent in the institutional, regional, and national teaching and leadership awards she has received.
Honouring Anne Marie's Legacy
Anne Marie leaves a deep and enduring legacy focused on personal growth, risk-taking, kindness, creativity, and wonder, that will continue to live on through her Communities of Practice, her students, colleagues, friends, and all those whose lives she touched though her leadership and support.
Those who knew Anne Marie Ryan likely have fond memories of an outdoor meeting with her – reflecting on the previous term, discussing creative new assessments for the upcoming year, identifying values and priorities, seeking her sage wisdom, or just enjoying each other's company. As a small nod to all of those hours of conversations, we would like to install a permanent outdoor meeting table in Anne Marie's honour.
The table will be located in a quiet corridor outside the Life Sciences Centre (LSC), seat 8 and allow for group discussions (like the Communities of Practice she founded in the Faculty of Science), one-on-one chats, or quiet individual reflection. We hope this will give faculty and students a quiet space to take some time and reflect – to reinforce this intention, the table will feature a small plaque with Anne Marie's own words, "Too much busyness can destroy creativity & ideas or keep them from moving forward".
The total cost of the table and plaque is $1,800. To support this fund in Anne Marie's honour, please make a gift on projectDAL today. If you have any questions about this memorial fund, please reach out to Mila MacLean at Mila.MacLean@dal.ca.
Supporters
Aaron Newman
Allison Schmidt
Anne Marie was an inspiration to many people on campus and her legacy as an amazing teacher, colleague and friend should live on in the place she loved most, the outdoors!
Paul Singh
Very kind and understanding person. Treated everyone with dignity and respect.
Penghao Xiao
Grant Wach
Dawn Kellett
Thanks Anne Marie, for caring about and for all us students that have passed through Dal's Earth Sciences department. I will not forget your generous spirit.
Alexandra Arnott
Ian Hill
Sue Gass
Dennette Hanna-Shea
In my 3 decades at Dalhousie I don't ever remember Anne Marie without a smile on her face. It didn't matter how busy or stressed she was. I will miss her (always) kind words each and every time she saw me or stopped by my office. She truly cared about people and will forever have a place in my heart.
Erin Sparks
Sarah Stevenson
Patricia Laws
There are no words express how grateful I am to have had the opportunity to learn from Anne-Marie. I look forward to having a space to remember her and connect with others.
Leslie Phillmore