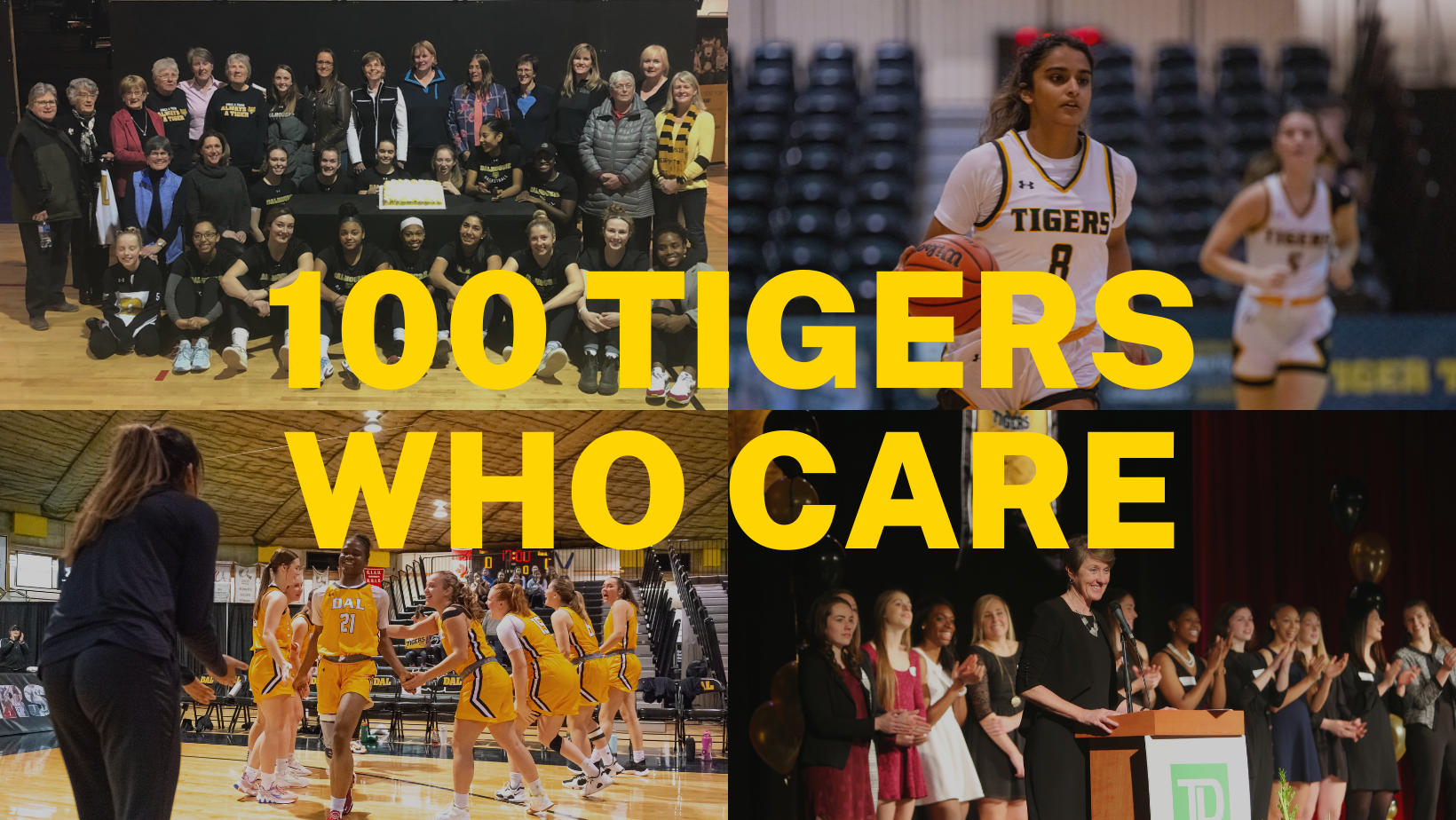 Story
Since it's establishment in the 1950's, the Tiger's women's basketball team has been a program that has allowed athletes to work as a team, face adversity, and meet lifelong friends. This program provided opportunities for Tigers to grow and develop – both as individuals and as a team.
Spearheaded by retired WBB Tiger Coach and Tiger Alum Anna (Pendergast) Stammberger, the 100 Tigers Who Care campaign is meant to welcome our new Head Coach, Tanya McKay, by starting an annual fundraising initiative. This fund would help grow the women's basketball program, which has meant so much to Tigers past and present.
The goal of this campaign is to engage with 100 (or more!) of WBB alumnae and friends to donate $100 twice a year so that we can raise $10,000 each term. If you are unable to commit to $100 twice a year, we encourage you to participate in any way that you can, to support our Tiger's WBB program.
Impact
Each Fall, the $10,000 (100 x $100) could be used to assist the Tigers with out-of-region travel to competitive tournaments. The second instalment of $10,000, donated in the Spring, could be put towards an athletic scholarship – a much-needed boost to the program's scholarship fund. This would enhance Coach Tanya's ability to recruit, which is key to building a top program.
This donation will represent the first part of your pledge for the Fall term. We will invite you back here in the Spring to share the second part of your pledge to the WBB team.
If you would like more information about this campaign, please contact Tanya McKay at tanya.mckay@dal.ca or at (902) 430-4361.
Supporters
Jill Tasker
Playing Varsity Basketball was a great experience for me for many reasons- developed wonderful friendships, created job opportunities, helped me develop confidence and made me realize that I could do whatever I wanted with hard work!! Still enjoy following the Tigers! Once a Tiger Always a Tiger!! Jill Tasker
Sheri Thurrott
Trish MacCormack
I believe in women supporting and uplifting other women. This is my way of giving back to the program that helped shape me into a leader. Six months of training at the RCMP Training Academy felt like a walk in the park compared to playing for Carolyn Savoy! She was hard on me when I played, but it prepared me for life and in particular a career in policing. Go Tigers Go!!
Carol Rosenthall
Being a varsity was the best experience while at Dalhousie. Providing help for others to get this joy fills my heart. Go Tigers.