Story
Honouring Mi'kmaw Elder Daniel Paul
Daniel Paul's portrait by Mi'kmaw artist Alan Syliboy will be displayed at Dalhousie University to honour his enormous contributions to the recognition and understanding of the history and continued significance of the Mi'kmaq people regionally and nationally.
Mi'kmaw elder, author, editor, and activist Daniel Paul has made an indelible mark in Canadian history and the history of Turtle Island, as the author of his ground-breaking book, We Were Not the Savages, which is now in its fourth edition. This authoritative version of Mi'kmaq history challenges conventional versions of Canadian colonial history by exposing the violence inflicted on Mi'kmaq populations from the beginning of European colonization of the New World to the present. Daniel Paul has fundamentally changed how we understand Canada's origins and the complex roles and sophisticated social, political, economic and cultural structures of the Mi'kmaq people. He was recently diagnosed with terminal cancer; the portrait of Daniel Paul by talented Mi'kmaw artist, Alan Syliboy will provide a lasting tribute to Paul and his singular impact on Canadian history.
Our goal is to raise $8500 for this commissioned portrait. Any extra funds raised will be put toward a scholarship to be established in Daniel Paul's honour at Dalhousie.
More About Daniel Paul
Daniel Paul was born on the Indian Brook Reserve (Sipekne'katik, Nova Scotia) in 1938. He attended the Indian Day School on Shubenacadie Indian Reserve to grade eight before moving to Boston at age fourteen. He eventually returned to Nova Scotia where he worked in government and became a community activist, including serving as founding Executive Director of the Confederacy of Mainland Micmacs (as it was then known).
In 1993 he published the first edition of We Were Not the Savages, a groundbreaking history of the Mi'kmaq people during the period of European colonization, now in its 4th edition. He has also written extensively in essays, books and newspaper columns. He has served on the Nova Scotia Human Rights Commission and on the Nova Scotia Department of Justice's Court Restructuring Task Force, among other provincial commissions; as a justice of the peace for the province; and as a member of the Nova Scotia Police Review Board.
He was named to the Order of Nova Scotia in 2002 and the Order of Canada in 2005. In 2013, Dalhousie University awarded Dr. Daniel Paul with an Honourary Doctorate in recognition of lifetime achievements in the promotion of human rights, in particular those of the Mi'kmaq. He states on his website that the accomplishment of which he is most proud is that he has "lobbied successfully to have names of buildings, roads and so on, that were named in honour of colonial officials that brutalized the Mi'kmaq, changed."
About the Artist – Alan Syliboy
Alan Syliboy studied privately with Shirley Bear before attending the Nova Scotia College of Art and Design. He looked to the indigenous Mi'kmaq petroglyph tradition for inspiration and developed his own artistic vocabulary out of those forms. His popularization of these symbolic icons has conferred on them a mainstream legitimacy that restores community pride in its Mi'kmaq heritage. He has shown his work in numerous group and solo exhibits all over the world, from Europe to Japan, as well as in Canada and the United States. He has created a commemorative coin for the Royal Canadian Mint, participated in the Vancouver 2010 Venues Aboriginal Art Program, and presented a portrait of Grand Chief Membertou to Queen Elizabeth II on her visit to Halifax in 2009 He is also an award-winning filmmaker and musician, and has written and illustrated several books for children. Alan lives and works in Millbrook, NS, where he was born and raised. He creates his art in his studio in Truro, Nova Scotia.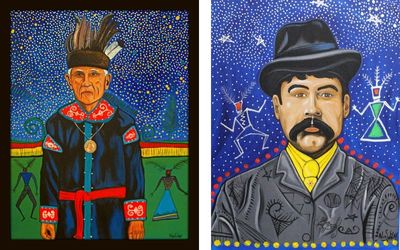 Previous portraits by Alan Syliboy.
Left: Grand Chief Gabrielle Syliboy; Right: Grand Chief John Denny Jr.
Please join us in honouring Daniel Paul.
If you would like more information about this campaign please reach out to Jennifer Pierce at jennifer.pierce@dal.ca. To mail a cheque please send to the Office of Advancement, 6389 Coburg Road, PO Box 15000, Halifax, NS B3H 2A5.
Supporters
Lisa Binkley
Daniel Paul's generosity and knowlege is a special gift to community and the thousands of students and citizens he has reached through his research. Thank you Dannie!
Elizabeth Kay-Raining Bird
It is so important to honour the Mi'kmaw heroes in our midst.
Stephen Archibald
Daniel Paul and Alan Syliboy; pleased to see Dal telling this story.
John Cameron
Jenn Pierce